Are you moving and are you already packing things? Then it is important that you compile a kind of moving checklist. This way you can easily ensure a carefree move. Immediately moving checklist you don't overlook anything and prevent you from forgetting certain tasks. It's not for nothing that we say that good preparation is half the work, isn't it?
Moving soon? Moving is happy to help you.
At Moving we are happy to help you with a smooth move and that is why we have tried to put together a handy step-by-step plan for you. You may have hardly used such a checklist in your life, but once you know how useful it is, we are sure you won't want anything else! With a step-by-step plan you can make the move go smoothly.
A carefree move
You can use our step-by-step plan as a guideline, but in the end it is of course best to personalize your checklist. This way you know exactly what you need to do for your move, when you need to do it and when you have already done it. This way you will not forget anything during this chaotic period and the moving day will go smoothly.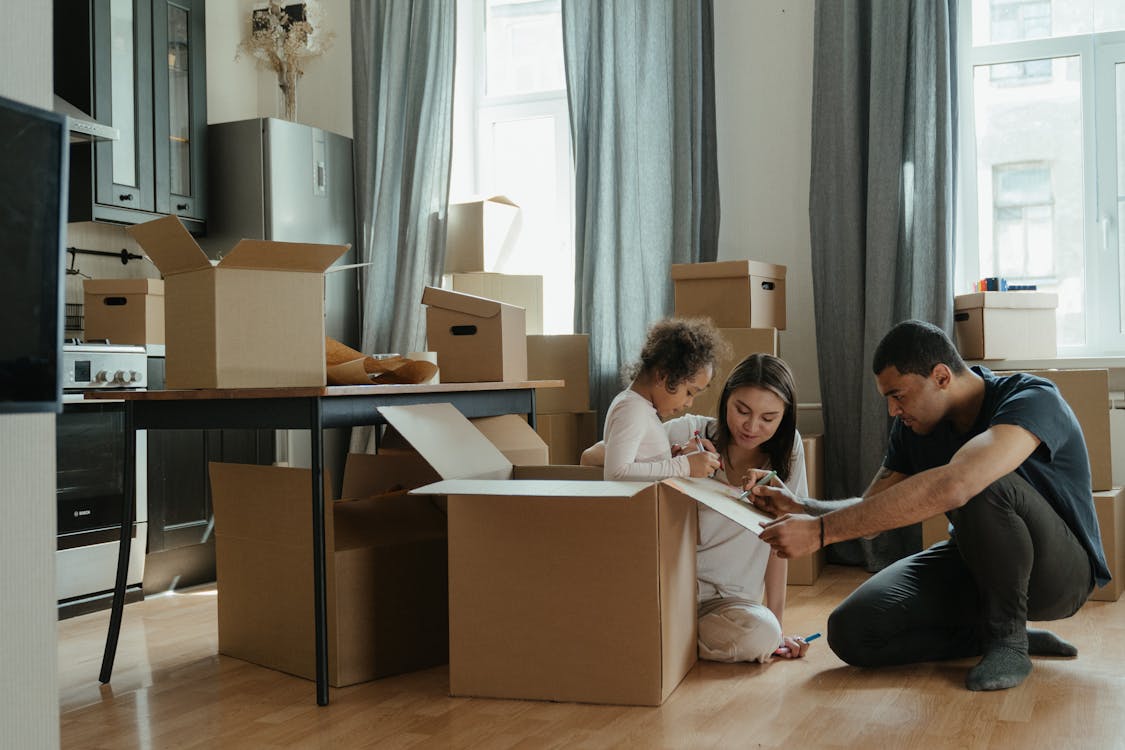 Step 1. The practical side of a move
Moving to your new home means that you will of course have to move your household effects. You can do this by moving to your new home, of course you have to move your household effects. You can use one for this professional moving company switch on, but you can of course also carry out the move yourself. Doing a move yourself can be difficult. Call in emergency services and ask friends and family and maybe even children and pets for help so that the furniture and other items can be moved safely. switch on, but you can of course also carry out the move yourself. Doing a move yourself can be difficult. Call in emergency services and ask friends and family and maybe even children and pets for help so that the furniture and other items can be moved safely.
Step 2. What do you need to arrange?
The first and most important thing to do is of course cancel your lease. You may think you still have a lot of time and you may think you can wait, but keep in mind that you often have to deal with a notice period with contracts. You can also look at things like:
Your bail
Inform your employer and environment
Parking permits for the new house
Submit the meter readings
Do you still need to hang out?
Other cases
Of course it is important to think about the practicalities when planning the move, but in addition to arranging the move of your valuables on the moving day, there are of course other things you should think about.
Step 3. Submit your change of address
Of course you cannot remain registered in the old home. The new residents will probably not appreciate this. Furthermore, it is simply important to notify the municipality of your move in time. You even have to arrange your change of address in time.
Step 4. Basic Registration of Persons (BRP)
When you move to a new municipality, you must register yourself and your family as new residents. In this case the new municipality will automatically deregister you at the old church. Are you moving within the current municipality? Then you only have to report a change. In any case, always notify us of your move at least 4 weeks before the move or no later than 5 days after the move.
Step 5. You can skip the important instances!
When you have passed on the move, the municipality will automatically enter everything in the Personal Records Database (BRP) and this will inform all important authorities in the Netherlands of your move. Think of, for example, your health insurer, the tax authorities, the police, but also the fire brigade. This way you will not miss any mail from these important authorities because nothing will be sent to the old address anymore. Nicely arranged right?
Make sure you don't forget anything
When you are making a schedule, make sure you don't forget other contracts and subscriptions. This could, for example, be the gas, water and light that you probably have to cancel for the old home. You will also have to hand in the keys on the day of the move or on the day of delivery.
Step 6. Pack stuff
By the way, don't you feel like packing all your stuff in the old house? Then you don't have to do this yourself. Professional movers are happy to help you pack your things. Not only do they know how to do this correctly, but packing your belongings is also done with the best and professional moving materials available.
Do you need other moving services for the move? Such as temporary storage for items or furniture that cannot be moved? Do you need a handyman or alone furniture transport? Then a moving company can help you with all these tasks. Always ask a moving company about their moving services.
Step 7. Donate your stuff to charities
Of course you can't leave your stuff in your old house. There is a very good chance that the new residents will probably not appreciate this. Don't want to move the things to the new home, but don't have time to arrange storage space? Then you can also donate the items to charity.
Step 8. The local thrift store
When you choose a charity, you no longer have to deliver the items yourself, because most charities collect them for free. For example, the local thrift store always does this. This way they can resell the items below in their store. So if you want to save on costs and don't want to move anything to the new home, this is a very good other option.
Do you want to move yourself or hire professional movers?
Moving to a new home does not necessarily have to be difficult and you can of course often do this yourself. In this case, it is important to think carefully about this first. Yes it gas water and light you can easily cancel yourself, but actually carrying out the move to the new house yourself can be quite difficult.
Step 9. Free moving quotes
Do you want to know what the prices of a professional moving company are? Then it might come in handy here moving quotes can be requested for this and at Moving this is not only very easy, but also free of charge. You fill in an application form and as soon as we receive it we will send it to the 6 best moving companies in your region.
All 6 moving companies will contact you within 24 hours to discuss the free moving quotes with you.
---
Frequently Asked Questions
How far in advance to start moving?
You can never start packing too early. However, it is important that you first start with the rooms and items that you do not use often. This can be the garage for one, but also the attic for the other.
How many days off do you get to move?
If you are entitled to special leave, this is often a maximum of 2 days per year.
Are you entitled to a day off when handing over the keys?
This depends on your employer. One employer thinks this falls under special leave and the other will say that you should use your vacation days or hours.
How long does the final home inspection take?
A final inspection of a home often takes no longer than half an hour.
Which month do most people move?
April is the most popular month for moving in the Netherlands. Spring in general is a very nice period because of the pleasant weather.