Are you planning a move this year? Then it is of course important to start the preparations on time. When you decide to outsource the move, the moving costs are the most important part of the preparations for your move.
Moving costs yourself
Of course you can always carry out a move yourself. But have you taken into account everything that comes with this decision? All the things you need to arrange with regard to your move? This is not only moving your belongings from A to B with a moving van, but these are also administrative matters. And don't underestimate how many hours a move will take when you do it yourself.
Wil je besparen op de verhuiskosten? Denk dan eerst heel goed na, want als je goedkoop wilt verhuizen hoef je niet per se de verhuizing zelf uit te voeren. Een moving company kan je namelijk ook gewoon goedkoop verhuizen. Het is dus vooral belangrijk om eerst goed na te denken over wat er voor de verhuizing nodig is. Een goede voorbereiding is immer het halve werk!
If you carry out a move yourself, this will cost you between €350 and €600 on average.
How much does a move cost
Moving costs are related to various factors. Every move is different and so are the different services that you hire as a customer. That is why the average costs of a move are very difficult to estimate. This requires more information.
The moving costs are calculated on the basis of the services you purchase, but the moving costs also mainly consist of the size of your household effects, transport costs and the distance between the current home and the new home.
The costs for a moving company consist of:
The cost of hiring a moving company consists of three parts. It also differs per moving company how these costs are passed on. The biggest costs are labor hours and transport.
Labor
Transportation
Material
Cost extra movers
You can also outsource the move to a professional moving company. In this case, experienced movers will move all your belongings in the right way and you don't have to worry about anything anymore.
A moving company usually charges between €33 and €39 per hour per mover.
Moving company costs
Not only can a moving company come to the rescue with extra hands that can help you during the move, but they also offer their customers all extra moving services. This of course entails extra costs, but it does make your move a lot easier. Of course you can also make the move as expensive or cheap as you want.
Rent a moving lift
Sometimes renting a removal lift is necessary. For example, if you live on a higher floor. This makes sense, of course, but did you know that moving lifts are sometimes also needed for people living on the ground floor? In many old homes, the doorposts or stairwells are too small, which means that some pieces of furniture cannot be moved safely.
Additional storage space
Are you moving to a smaller living space and do you no longer have room for your old furniture? Don't want to throw the stuff away and would you rather opt for a small fee? Then of course you can always sell the stuff. Unfortunately, it often happens that the items cannot be sold on time and of course you cannot leave them in the old home. The landlord will not be very happy with this.
In this case you can choose to rent a storage space. In this case, the moving company can load these items into the moving van and will then load them to the storage area where the movers will neatly place everything in the room. With many moving companies you can still access your belongings in the meantime if you want to put other things in the room.
Transport costs
A small truck costs on average between €83 and €91 and a large truck between €97 and €107. However, moving companies often also offer package prices, which means that you will pay a lot less if you purchase a whole package.
Cost of moving material
You will have to pay between €150 and €250 for moving material.
Save on your moving costs
Have you been able to read a moving van from a friend and do you not need any extra movers at all? Then you can of course also carry out the move yourself. Please note that this is not always easy, but it is certainly not impossible.
Ask for help from your environment
Have you chosen to move yourself and do you not want the help of a professional mover? Then of course you can always ask for help from family, friends and acquaintances. They can probably help you move some furniture. This should definitely work out. Many people who do not live in self-contained homes like to move themselves with the help of the environment.
A moving company does not increase moving costs
Yes, a moving company will of course cost a little more than if you carry out the move yourself, but this amount does not necessarily have to be very high. You will not soon have to deal with very much higher costs. As you have read before, you can make a move as expensive or cheap as you want. You are ultimately in control of the total moving costs.
What are the costs when you move yourself?
The average move is a big job. Not only do you need help from your friends, family and/or acquaintances, but you also need a moving van, for example. Renting a moving van will cost you between €100 and €150. And this is often only for a certain number of hours. For a smaller moving van, the costs will be slightly lower.
If necessary, you will also have to rent a removal lift and if you need storage for household effects that you cannot move with you, you will also have to arrange this separately. All this not only takes a lot of time, but also extra money because you often purchase the services from different companies.
Choose a professional moving company
When you outsource your move to a moving company, you hardly have to do anything yourself. Yes, pay the moving costs, but as we explained earlier, this does not have to be very much. Take a good look at which services and how many movers you need so that you can save on moving costs. Call-out costs and transport costs are of course standard costs on which you cannot save.
Save on your total moving costs
Saving on your moving costs is actually very simple and we are happy to help you with this. View the table below for all information and explanations regarding saving on moving costs.
(Un)recognised moving companies
Recognized moving companies are usually a lot more expensive than unrecognized moving companies. Do you not necessarily need the services and guarantees of a recognized moving company? Then of course you can always choose an unrecognized moving company. For example, there are also plenty of budget moving companies that work with students and can therefore move you very cheaply.
Note the distances
The further apart the houses are, the more expensive the call-out costs will be. Therefore always choose moving companies from your own region or municipality so that you do not have to pay too many call-out costs.
Keep an eye on the amount of stuff
If you live in a small apartment, you probably already have quite a few things compared to, for example, the size of the contents of a detached house. It is of course very logical that when you have less stuff, fewer movers are needed for your move and this of course affects the total costs of your move.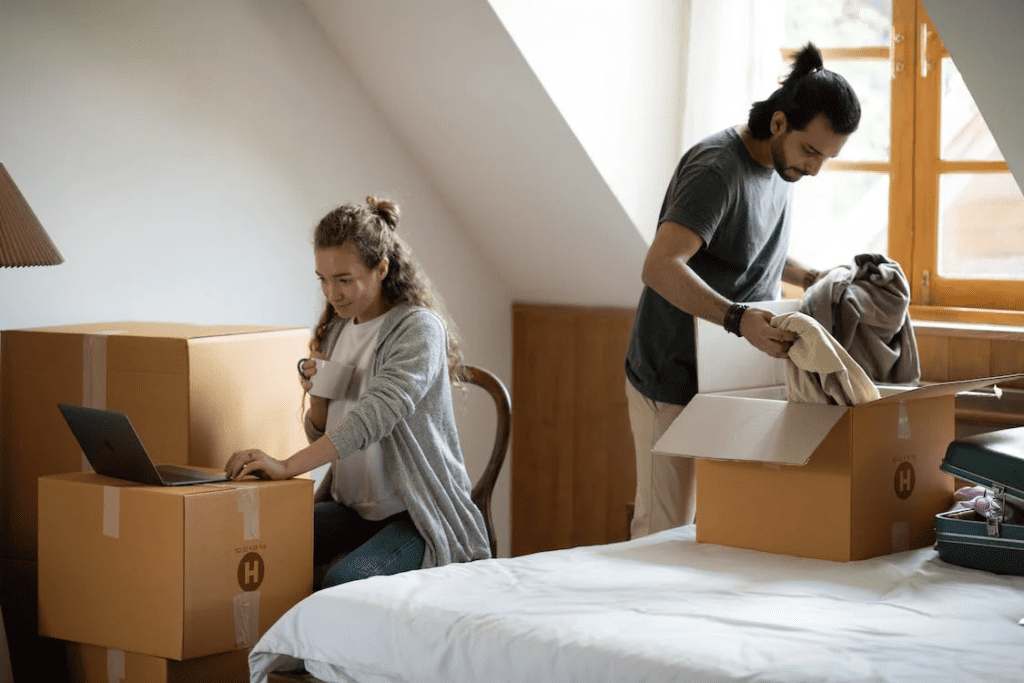 Think carefully about the extra moving services
Think carefully about the moving services you really need and which you don't really need at all. Don't need a storage or moving lift? Don't need help packing? Do not hire these services.
Small tips for saving on various moving costs
Move the small items from your home yourself with, for example, your own car. In this way you probably only need a small moving van and renting this is of course a lot cheaper.
Furthermore, you do not always need a whole team of movers and in this case you can always hire only one extra mover. Do not incur extra moving costs if this is not necessary.
Compare moving companies with different moving companies
Om te besparen op de verhuiskosten is het natuurlijk belangrijk om meerdere verhuisbedrijven met elkaar te vergelijken. Om dit te doen is het noodzakelijk om moving quotes aan te vragen bij de verhuisbedrijven bij jou in de buurt.
Moving quotes and Moving
We understand that you probably don't have time to look up all the good moving companies and then also have to request a moving quote from every moving company. That is why we at Moving have come up with a solution for this.
At Moving you can now easily request free moving quotes from several moving companies. For this you only need to submit one application form so that we can send it to the 6 best moving companies in your region. These moving companies will contact you within 24 hours. Once you have received all quotes, you can compare them with each other and make the right choice.
Frequently Asked Questions
What are the costs for a move?
The average moving cost for a flat or apartment is between €850 and €1100. For a terraced house you pay on average between €1200 and €1900. And for a semi-detached house or detached house you pay approximately between € 1850 and € 2650.
How much does moving with a moving company cost?
The average costs for a move with a moving company are between €1700 and €2000.
How much moving allowance for 2023?
Are you moving before 28 February 2023? Then the relocation allowance is €6505. Are you moving after this date? Then the amount of the relocation allowance is €7156.
How much do you get for furnishing costs?
For furnishing costs, you should contact the municipality in which you live. The municipality will make a calculation based on certain conditions and target prices.
How much money do you save moving house?
According to the National Institute for Budget Information (NIBUD), it is wise to save 1% of the home value annually. This means that if the house is worth € 250,000, you have to save € 2,500 annually. You can have a calculation made free of charge with the BufferCalculator on the NIBUD website.