A move in which someone moves from or to a foreign country is also referred to as an international move. This person is going to move to another country and it is important that the move receives the necessary care and attention.
Moving with the whole family
At one international relocation there is much more to it than just moving personal belongings to a new environment. In this case, the person in question does not just move to a new home in a new place of residence, but to a country to which they leave. Especially for a family moving abroad be heavy.
Mental impact of moving internationally
As you have read, an international move has an impact on all family members. This can be especially mentally tough for the children.
These mental problems do not have to be permanent and it is especially important to give everyone enough time and space so that everyone can get used to the new environment.
Relocation advice for expats with an international move
Moving to a new destination means a lot to arrange and this also applies to the moving company. You are moving outside our national borders and some destinations therefore require paperwork.
A good moving company will not only help you move your belongings to the new environment, but will also help you with all the paperwork and important documents. Good preparation is half the work, isn't it?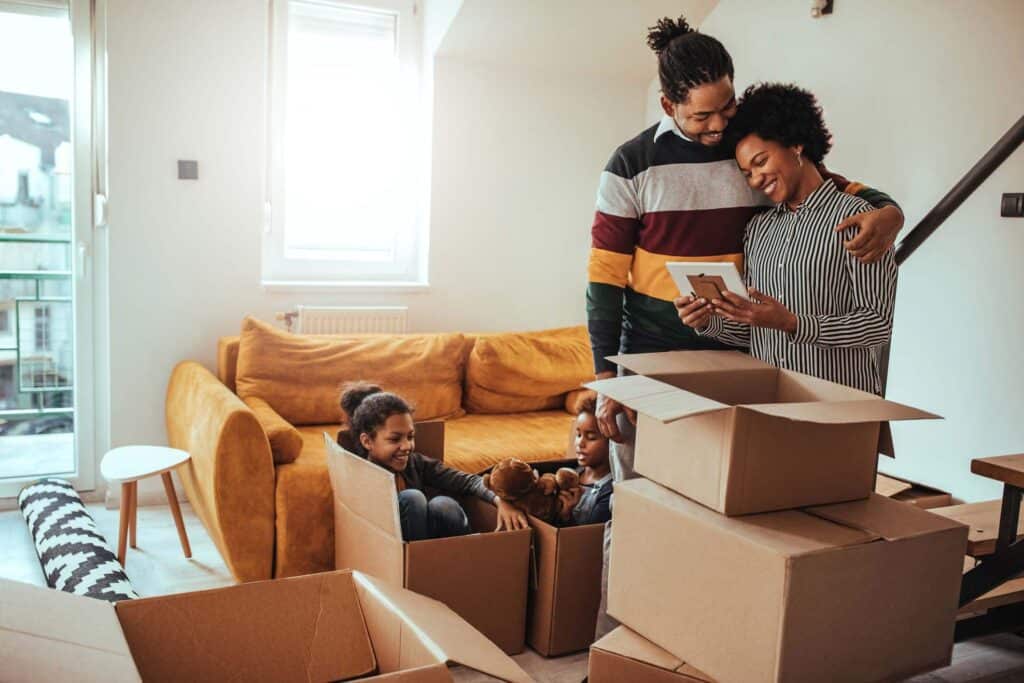 An international moving company can organize the move
Not every moving company has the necessary experience with moving expats, which is why it is extra important that you hire a moving company that specializes in this. At a professional international moving company not only is your household contents insured, but they also know exactly how to carry out removals to hard-to-reach places in other countries.
Unfortunately, most expats cannot move their entire household effects to their new home in a foreign country and therefore often choose to store part of the household effects in a intermediate storage store.
Organizing your move abroad
As you have read before, an emigration requires a lot of arrangements. Especially when children are involved. For example, have you already found a good school? Have you already said goodbye to family and friends?
When you will move it is important to keep all important papers and belongings at hand. Not because the destination country may request this, but more because of the risk of losing these documents. This includes, for example, documents relating to the basic registration of persons, marriage certificates or insurance documents.
Fortunately, in the event of loss or theft, you can still request this from the Dutch embassy abroad, but this is not only annoying, but also a lot of arranging that can be quite time-consuming. Therefore, collect important documents and keep them in a separate box that you can keep with you.
Expats often have continuous travel insurance or international health insurance. It is best to inquire with various insurance companies about what is most convenient and economical for you in the country of destination.
Compare quotes for free and without obligation
If you have several quotes you can now easily arrange this with Moving before you move. You only have to submit one request and we will send it directly to the 6 best international movers can send from your region. They will all contact you within 24 hours to discuss the quotes.
Frequently Asked Questions
What do you need when you move?
When you are going to emigrate, you need a good checklist and a good moving company. This way you can be sure that everything will be properly arranged.
What should you do if you are moving abroad?
When you emigrate, you must deregister yourself from the municipality. You can pass this on for 4 weeks or even on the day you leave. You can do this at the town hall, but many municipalities now also do this online.
How expensive is moving abroad?
Emigrating will soon cost you between €6200 and €9700. Of course it depends on where you are moving to.
Can I keep my Dutch bank account if I emigrate?
If you stay within Europe you can usually keep your Dutch bank account. Outside Europe this becomes a story. It is best to contact your bank for this, because this mainly has to do with payments abroad.
How many months per year can you live abroad?
If you stay abroad for more than 8 months in a year, you must deregister yourself from the municipality.