Let's be honest... for Dutch employees, the number of days off is scarce. Not at every company of course, but unfortunately it often happens that employees have few days off and these can be considerably reduced due to a move. When you move, you naturally want a stress-free move, which is why good preparation is extremely important.
CAO days off
Fortunately, in the Netherlands you are entitled to special leave when you move house with most employers. This is an average of two working days of special leave. This may not be enough for you, but it means you no longer have to take too many days off. Of course this always hurts.
Please note: special leave is not regulated by law in the Netherlands
Unfortunately, special leave is not regulated by law in the Netherlands, so that an employer can decide for himself what he does with it. Are you not sure exactly how your company's company regulations deal with days off? Then you can of course always find this in your employment contract. Were you able to find articles about special leave in your collective labor agreement or company regulations? Then it is also important that you read the conditions carefully because, for example, the company may have a maximum number of days off for a move.
CAO days off
As you have read before, your employer can decide for himself whether he will give you days off for your move. Would you like to ask your employer, but would you rather find out yourself first? Then you can still find all this information in your employment contract. You can also find out whether you will be paid for the free moving days.
When is special leave in the collective labor agreement?
Dutch employees can generally take a maximum of 2 working days off for a move. Of course, these days off must relate to the conditions of the company. Don't forget that your employer is not obliged to release you for your move, so keep this in mind.
Which days actually fall under special leave and do you get paid for this? If you do not know this, you can find all this in your collective labor agreement or employment contract.
When you move, it is of course very important that you can demonstrate when the move will take place. Employers like to hear in good time that their employees want to request days off. Therefore, make sure you do this well in time. In general, it is nice if there is at least 2 weeks between the move and the application.
Of course, it can sometimes also be an emergency move and any clearing out of your home must of course also be done at the last minute, but a good employer will of course always understand this.
No moving leave, what should I do now?
Are you unfortunately not entitled to leave? Then this is of course very unfortunate. Fortunately, you can still take your days off for this. Would you rather not take a day off for your move? Then you might be able to plan the move over the weekend.
As you have read before, in this case you can try to plan your move during the weekend. You already have so few days off per year and if you have to use these days for a move, this is of course not fun. You may need these days off for a vacation you have planned later in the year. Unfortunately, a move during the weekend is more expensive, so employees ultimately prefer to use their vacation days.
Are you carrying out the move yourself or are you hiring a moving company?
If you carry out the move yourself, you will of course have to put in the necessary hours for this. to take. Are you going to carry out the move yourself and do you know well in advance when the move will take place? Then you can of course also try to save up compensation hours so that you may be able to use them. A good preparation is always half the work of course!
Your moving day is also gladly taken off your hands by a professional moving company. This is a small business for them and they like to do it. The movers know exactly how they can help you move and you can be sure that the move will be carried out efficiently.
Moving companies offer various moving services to make your move a lot easier. Ultimately, of course, you decide for yourself which moving services you use and which you prefer not to use.
Don't have time to pack or unpack because you haven't been able to take any days off for a move? Fortunately, movers can take this off your hands. The movers will usually come by a day before the moving day or sometimes even a few days before a move to pack the things. Not only do they know exactly how to do this, but they also use professional ones here moving materials for. You can think of moving blankets, wrapping foil or special wrapping paper. In this way, all your belongings can be safely moved to your new home. Do you want the movers to help unpack as well? Then this is of course also possible. In this case, the movers at the new address will unpack everything neatly and they will even put all the things in the right places.
Are there jobs that need to be done in the old house and/or the new house? Think of (dis)assembling furniture, filling holes in the walls or whitewashing the walls. Perhaps closing and closing white goods or other electrical appliances? Then in this case you can also choose to hire a professional handyman. Every moving company has a professional handyman that you could hire. This is of course extremely important in the case of, for example, when a house has to be delivered broom clean.
Can't you move your entire household effects with you during the move? Do you not want to have these items removed immediately, but do you want to sell them and have you not yet had the time for this? Then you can always have these things stored in a storage room. Every professional moving company has its own storage where you can have your household effects stored for a fee. If you opt for storage at a moving company, the movers will take care of everything for you. They will neatly load all your belongings into the moving van, drive the moving van to storage and unload the vehicle. They will then neatly place all items in the storage room. Do you decide later that you want the stuff back? Then you only have to indicate this so that the movers can deliver everything neatly to you.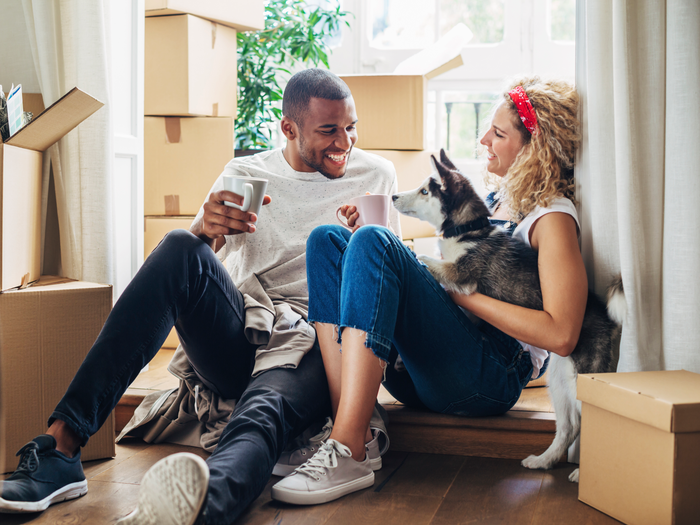 You don't have to worry at all about the security of the storage space. Moving companies usually have security around and almost always use 24-hour video surveillance. The climate is also regulated in the storage rooms, so that your belongings cannot get moldy.
A rent a moving lift may be necessary, but sometimes it's also just easy. Is a moving lift not necessary for your move? Then it is sometimes wise to think carefully about renting a removal lift because this can speed up removals enormously. This way, the movers can quickly and safely move all large objects through the window or balcony, so that your move will be over faster.
The moving costs
Do you want to hire a moving company for your move to your new home? Then it is of course more than logical that you want to know what the costs are. However, it is very difficult for moving companies to simply calculate the average costs for removals. For this they need more information. Every move is different, every move requires different moving services and the customer naturally has different wishes with every move. All of these things and many more ultimately affect the overall cost of a move.
Request moving quotes
Do you want an exact price indication of your move? Then you can contact several moving companies so that you can receive multiple moving quotes. This way you can also compare the different quotes with each other.
At Moving we understand that you don't have time to contact multiple moving companies. You would probably have to take an extra two days of leave for this and your employer is probably not waiting for this at all. That is why we at Moving have come up with a solution for this.
Request free quotes from Moving
At Moving you can now simply do it for free moving quotes to request. This is completely free and you will also receive several quotes at once. For this you need to fill in one application form. We will send these directly to the 6 best moving companies in your region and they will contact you within 24 hours via the contact details you entered. This way you quickly receive the different quotes and you only have to compare them with each other.
---
Frequently Asked Questions
Are you entitled to a moving day?
Special leave is not regulated by law in the Netherlands, so you should check this in your own collective labor agreement or employment contract.
How many days off do you get for moving house?
Your collective labor agreement or employment contract states whether you are entitled to special leave. Don't have this? Then unfortunately you have to take vacation days.
What are you legally free for?
What is regulated by law in the Netherlands is adoption leave or foster care leave, care leave, calamity leave and short-term absenteeism leave.
How do you ask your boss for time off?
You can submit a request to your manager for days off. Visit the office or send an e-mail.
Can you move in 1 day?
Whether you can move within 1 day obviously depends on the move, but it is certainly not impossible.