A move not only requires arranging administrative matters or moving things from A to B, but it also requires all kinds of packing work. Of course you want to be able to move the items safely and without any damage during the move, right?
Pay close attention to your fragile items when you move
People often think they don't have a lot of fragile household goods and this can sometimes be the case, but usually this is not true at all. It is precisely during the move that all these fragile items only become noticeable and you end up with your hands in the hair. You can probably imagine that packing can be very disappointing at that moment.
Dear stuff
Stuff that you don't think about quickly, but come across while packing, are often precious things that you don't use every day. You can think of that one expensive wine glasses or old crockery set that you inherited from grandma. Of course you need extra protection for these items and bubble wrap, for example, is indispensable and the ideal tool. Of course, safe transport must be ensured for these items, but this also means that the move must be properly packed.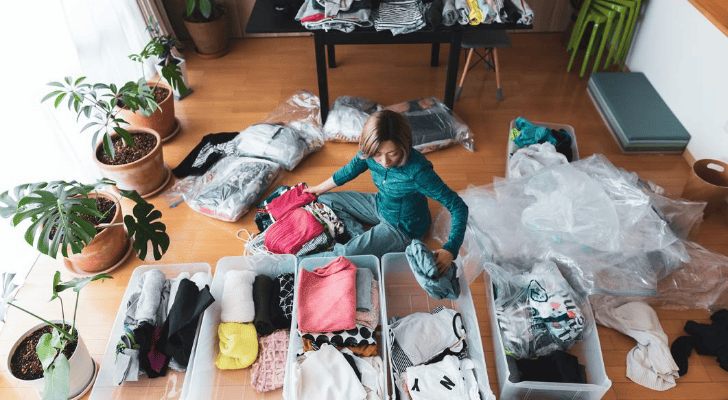 Packing material: a moving blanket, wrapping paper, bubble wrap
Your fragile household items in particular, of course, need extra protection during the move. Do you have other valuables that need to be moved in special cardboard boxes? Then make sure you order these moving boxes on time so that you also receive them on time. This way you can also start packing well in time. Other packing materials such as moving blankets, wrapping paper and bubble wrap are also indispensable.
Don't forget mattress covers and a plastic couch cover
During the move you naturally also want to protect your sofa and mattresses. If you do not pack a mattress or sofa properly with a mattress cover or a plastic sofa cover, they can not only be seriously damaged during transport, but they will also become very dirty.
An extensive range of packing materials
As you have read before, it is important to order the moving boxes well in advance so that you will receive them on time. This also applies to the rest of the packing material. When you visit the building center or look around online, you will also quickly notice that there is a wide range of packaging material available. But what exactly do you need?
Availability of professional moving equipment
You can buy professional moving materials in the hardware store or online. When you use the moving services of a professional moving company they can also arrange all this for you.
Every move requires strong duct tape such as Tesa duct, cover foil (ready-packaged) and, for example, a good tape dispenser. With a roll of packing tape everything sticks shut in an instant. You can also think of a roll of duct tape. Furthermore, not only mattress covers are indispensable, but strong protective foil covers are also very important. Yes, mattresses are not necessarily fragile, but they can dent, get dirty or get damaged. During transport, extra firmness gives extra security in the end!
Think carefully
Do you also want extra firmness for your hands? Then you can also purchase the perfect work glove. With this you can lift the largest box and strongest moving boxes. Optimal protection is of course not only very important for your belongings, but also for yourself. Also check whether you need any special materials, such as protective corners, corner protectors, painting corners or special bubble wrap. These materials are extremely suitable for moving entire objects such as paintings.
A professional moving company
A move can cause a lot of stress and that is why more and more people in the Netherlands are choosing to outsource the move. Outsourcing a move to a professional moving company is of course not just about moving moving boxes, but a professional moving company can also help you with many other things.
A packing and unpacking service
Do you have no experience, no time or do you just not feel like packing everything yourself and do you really want to take all the glassware with you? Then you can also choose to hire experienced movers to help you pack your things. They will come by one day before the move starts to pack everything properly. Do you also want an unpacking service? Then you can of course rent this additionally. In this case, they will unpack everything in your new home and put everything in the places where you want it.
Competitive prices with moving companies
Do you want to know how much moving with a professional moving company costs? Then you can of course always request quotes from different moving companies so that you can compare their services and prices.
Moving is happy to help you
At Moving we understand that you obviously don't have the time to contact all moving companies in your area. This can take an enormous amount of time and that is why we at Moving have come up with a solution for this.
Free quotes at Moving
At Moving you can now receive multiple quotes with one application form. This moving service is also completely free. After you have submitted your application to us, we will send it to the 6 best moving companies in your area. They will then contact you within 24 hours.
We like to make it easy for you
In this way, requesting different quotes does not cost you that much time and you can also have a home at ease moving quotes compare with each other. This way you can ultimately choose the moving company with the moving services that best suit your wishes and budget.
Frequently Asked Questions
How to pack fragile items?
Always use good moving materials for fragile items. Don't have this? Then you can also use old sheets, tea towels or towels.
How do you move plates?
Plates can be wrapped with bubble wrap and placed vertically in a box. Don't have bubble wrap? Then you can also stack the plates on top of each other with a tea towel or other packing material between each plate.
What are sturdy moving boxes?
Kraft cardboard is the strongest quality cardboard you can find. You can recognize these boxes by the brown color. These boxes also consist of several layers (double wave) and the more layers, the sturdier the moving box of course.
How expensive is a moving box?
Moving boxes are pricey and are even more expensive than ever after the corona pandemic. Nowadays you quickly pay around € 2.50 to € 3.50 for one moving box.
Where can I get free moving boxes?
Ask family, friends and neighbors for old moving boxes. Don't they have these? Then you can always look at Marktplaats, because moving boxes are often offered there for free or for a small amount.