When you finally move, you naturally want to move cheaply. How much the move from your (detached) home will cost you depends of course on several factors.
For example, are you going to carry out the move yourself or would you rather choose to outsource the move to one of the good national moving companies in the Netherlands? It is also true that the prices differ per municipality. Furthermore, it also depends on the moving services that you do or do not purchase.
You are moving! Do you do this yourself?
Have you decided to carry out your own move? Then this is of course also possible. However, it is very important not to underestimate the move. Good preparation is also extremely important, especially when you move on a busy weekday.
Are you going to carry out the move yourself because you think this is the only option with regard to cheap moving? Then unfortunately we have to disappoint you. Moving with professional movers does not have to be very expensive. Moving company costs are often even a bargain when you compare them with carrying out a move yourself.
Extra costs that you have to incur yourself
Yes, carrying out a move yourself means that you don't have to pay for an extra mover, but you will eventually have to deal with other costs. Consider, for example, renting a moving truck and, for example, the costs of transport.
Furthermore, a move will also cost you a lot more time because you have to arrange a lot yourself. For example, have you already thought about whether you need a parking permit for the new neighbourhood? Or the moving materials you still need to purchase?
What does an average move cost?
If you carry out a move yourself as a family, this will cost you approximately between € 65 to € 140 per day. As you have read before, these are costs for renting a moving truck, fuel and moving materials.
Choose a professional moving company
It hire professional movers does not have to be expensive at all, as you have read before. The costs for your complete move with a moving company depend on several things.
You can think of the amount of stuff, are several movers needed and do you need a removal lift, for example? Yes, as a customer you actually have quite a lot of influence on the final costs of a move. You can ultimately make the move as expensive or cheap as you want.
What do movers cost?
Moving companies usually charge between € 850 and € 1100 for moving a flat. For a move from a terraced house, the price will usually be between €1200 and €1900. For a large house such as a villa, the costs will quickly rise to around € 1850 to € 2650.
What influences the costs of a move?
A moving company not only makes your move easy by using several movers who can move your moving boxes. No, a moving company offers many more benefits. Yes, the movers will make your move go a lot faster and smoother, but they can actually do a lot more than that. Don't want to be stuck with too many or too few moving boxes on moving day? Then you can now also use our free moving boxes calculator.
The cost of one moving company therefore depend very much on which moving services you purchase as a customer and how many movers are needed. These are usually the different factors we talk about. We would like to explain the most popular services to you.
Elevator assistance
Renting an elevator may be necessary for some moves. For example, you can think of an apartment where the house is on a higher floor, but also, for example, houses where the doorposts or the stairwell are too narrow, for example. As a result, the large furniture cannot be moved without a removal lift.
This problem can also occur on the ground floor, which means that movers are forced to move large items through the window or balcony with a removal lift.
During some moves, a lift may not be necessary, but it can make the move a lot easier for the movers. Fortunately, renting a moving lift from the moving company is extremely easy and they often also offer you the best deal.
Rent a moving van
Do you want to move all your belongings from your old home to your new home? Then of course you need a moving van. Which size or type of moving van you need also depends on your household contents. For example, do you have a lot of stuff and is it going to be a big move? Then there is a good chance that you need a larger moving van. You may even need some moving vans so the movers can move the extra stuff.
The moving company knows exactly what is needed for your move and that is why they will always discuss this with you properly. This way everyone knows where they stand and no one will be faced with surprises later on.
Do you also need a handyman?
There is of course much more to a move than just moving stuff. For example, during a move, the necessary jobs are always carried out. Did you know, for example, that it sometimes happens that furniture has to be disassembled for safe transport? And later in the new home also have to be mounted again, of course.
For example, many people have no experience with this at all and therefore prefer to outsource these jobs to a handyman.
Do you need (temporary) storage?
Have you started packing things and found out that you unfortunately can't move a lot of things with you? Is storing household effects in a storage space therefore necessary? Then a professional moving company can be of service to you. Most moving companies in the Netherlands also have storage units for rent that you can use for a fee.
When you rent storage space from a moving company, you will no longer have to do anything yourself. The moving company will pick up your belongings, place them in the room and when you need them again, they will personally deliver all the items to you.
Recognized movers
Yes, one moving company is of course not the other moving company. In the Netherlands, for example, there is the trade association of Erkende Verhuizers and what the costs of a moving company are mainly has to do with this.
Warranties and insurance
A recognized moving company can offer customers much more when it joins the trade association. For example, you can think of various guarantees and insurance. For example, with a recognized moving company, your household contents are insured for up to €100,000 during the entire move! Furthermore, all Recognized Movers also have the same General Terms and Conditions, so that they can give you a guarantee certificate when you book, so that you can be sure at all times that your move will take place.
The more expensive companies you came across during your search. to 'moving company costs' are therefore often Recognized Movers. Due to their membership, they have to pay costs to the organization because these guarantees and insurance are of course not free. And you guessed it… these costs are of course always passed on to the customer.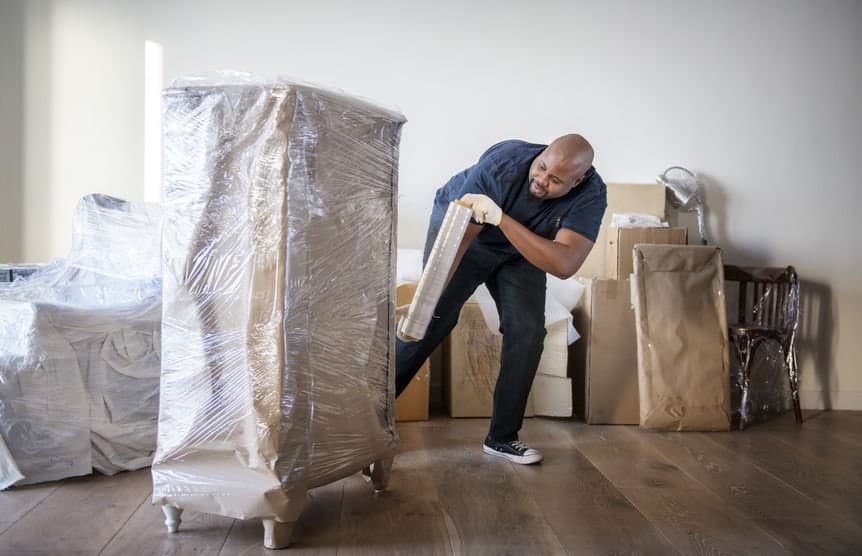 Is an unauthorized moving company less good?
Unrecognized moving companies are certainly no less good and often these regional movers choose to remain independent so that they can determine their services and prices themselves. In this way they do not have to pay any costs to the organization and they can always keep their prices low. This way you as a customer will not be charged anything extra.
Always read the General Terms and Conditions carefully
When hiring an unrecognized moving company, it is important to read the General Terms and Conditions carefully. Unlike Recognized Movers, these companies do not have the same conditions, so it is extra important to inform yourself well. Especially with regard to their insurance and warranties.
Saving tips for your move
Life is expensive enough these days and that is why we have put together a number of tips for you so that you can save on moving costs.
Tip 1. Always compare several moving quotes
A quotation does not give you an insight into the moving costs, but also into the moving services. This way you can view everything and you can also negotiate about prices and services.
Tip 2. Move on a weekday and not during the weekend
Moving companies often charge an extra surcharge for weekend moves, which means that a move during the weekend can be a lot more expensive. A surcharge of 25% is usually charged on Saturdays and sometimes even 75% on Sundays!
Tip 4. Are you entitled to a relocation allowance?
Do you have a low income or are you forced to move? Then there is a good chance that you are entitled to a relocation allowance. In this case you could receive up to €7156 moving allowance! Check with your landlord or the municipality.
Tip 5. Do as much as possible yourself
When you use many moving services, the costs for a moving company will of course increase. So if you do as much as possible yourself and only leave what is necessary to a moving company, this can save you a lot of money.
Tip 6. Make good agreements
Make sure you are well informed in advance about the conditions and insurance policies of the moving company. Always make good agreements so that you will not be faced with unnecessary surprises later on. Consider, for example, post-calculation that many price fighters work with.
The exact costs of your move
Would you like to know the exact costs for your move? Then of course you want a professional mover to calculate the moving costs for you. This is also possible. For this you only have to request a moving quote so that they can do this for you. Please note that it is free and that you are not committed to anything after your application.
Quick indication of moving costs
Bij Moving begrijpen wij dat je er helemaal de tijd niet voor hebt om met ieder verhuisbedrijf contact op te nemen. Hierbij weet je ook niet eens zeker of het aanvragen van de moving quotes gratis is! Zo weet je precies wat een verhuizing kost.
At Moving we have therefore made it all a lot easier for you and you can now easily request free quotes from us. As soon as we receive your request, we will send it to the 6 best moving companies in your region. They will then contact you within 24 hours. This can be by telephone, but also by e-mail.
Requesting multiple quotes has never been easier!
Use our relocation calculator for free
Are you only busy packing things and are you still curious about the costs of a moving company and what your move will cost you? Then you can easily have an estimate made at Moving. You can use our free of charge for this moving calculator.
Therefore, searching the internet for 'moving company costs', 'average moving costs' or 'moving company costs' is no longer necessary. You only have to answer a few questions so that the calculator can make the best possible estimate of your moving costs.
---
Frequently Asked Questions
How much money to save for moving?
According to the National Institute for Budget Information (NIBUD), it is wise to save 1% of your home value every year. Do you want to know what amount this is for you? Then you can use the Buffer Calculator on the NIBUD website for free.
How much cash can you keep at home?
In the Netherlands there is not necessarily a limit for the amount of cash you can have in your home. However, for amounts above € 560 you are obliged to declare this to the tax authorities. This amount is €1120 if you have a tax partner.
Can you just move?
If you have found a nice house, you can of course move there. Why not?
Who can help me move?
Family, friends, neighbors or acquaintances can help you move, but you can of course also opt for professional movers.
What does a moving van with staff cost?
A smaller moving van including one driver will cost you between €39 and €59 per day.