Are you planning a move soon? Then moving and arranging storage is a handy combination. Maybe you are going to renovate and there are things you don't want to damage? Then, for example, renting a warehouse is a good option. Many people do not think about it when moving or renovating, but for your own convenience it is always best to opt for a storage space.
Renovations, removals and storage
Renovating and/or moving and storage doesn't have to be that difficult at all. Especially not when you opt for (mobile) storage with a moving company. When you have your move carried out by a moving company, they will provide you with expert advice at all times and they know exactly what kind of storage space you need for your move. Moving and storage has never been so easy.
There are many more ways
Do you want to store items from the old home before you move because they do not fit in the new home? Then there are different ways to store your belongings. As you have read before.. moving and storage has never been easier. And Moving tries to make it all even easier for you. Why make it difficult when it can all be done easily?
Content storage companies
You can therefore have your household effects (temporarily) stored in various ways. For example, there are moving companies that can not only take care of your move, but can also provide storage. But there are companies that do rent storage space which you can easily use privately.
Types of storage space
Do you need (temporary) storage and have no idea where to start looking? Then you have found Moving right because we are happy to explain exactly how (temporary) storage works. There are not only storage units of different sizes, but there are also different types of storage units that you can choose from.
Store your belongings with a private individual
You don't have to look far for (temporary) storage. Nowadays there are a lot of people who have extra space left and rent it out as storage space for your belongings. This can be a garage, attic or shed that they do not use. Barns or parking spaces with mobile storage are also often rented out. In this way, people have of course quickly earned their pocket money.
Private storage spaces are often very cheap and these prices are of course very attractive, but always pay attention. Of course you don't want your household effects to be in a room where they run the risk of being damaged by, for example, mold. And unfortunately, the rooms in private homes are often not properly conditioned or are not heated or ventilated, which means that there is a chance that your household effects can be damaged.
Furthermore, the conditions and crockery at private individuals are often of lower quality. Of course you can always ask the landlord if you can view the room first since you want to store your belongings (temporarily). Often this is not a problem.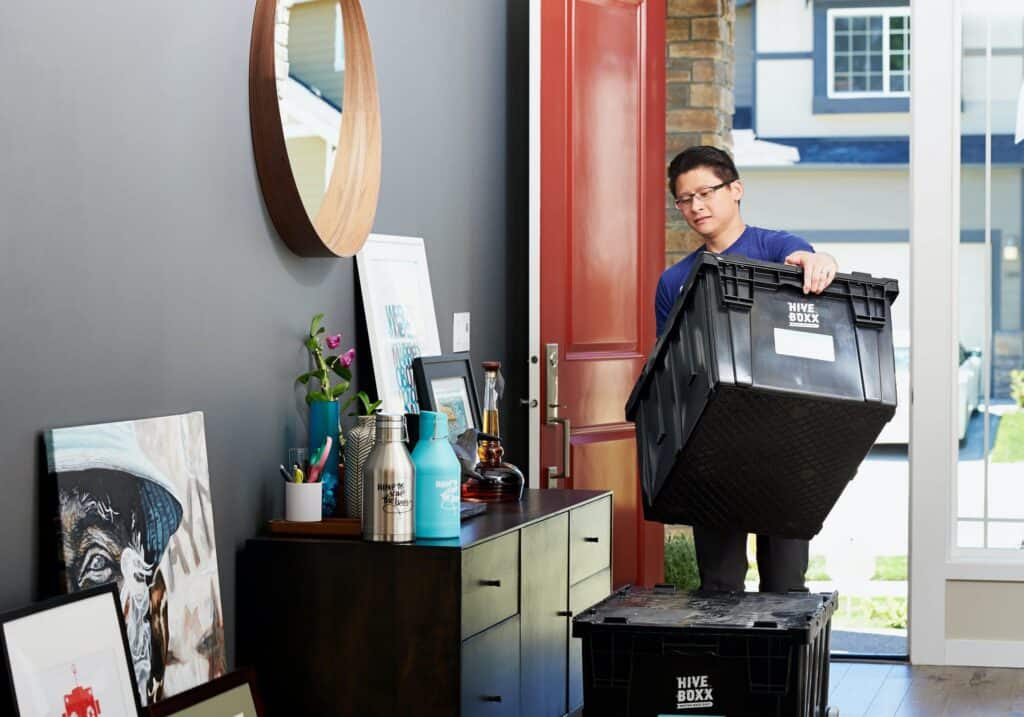 Temporarily store your household effects at self-storage
Are you carrying out your move yourself and do you have household effects that do not fit in the new home? Do you want your household effects to go to storage? Then of course you can always opt for (temporary) storage at one of the many professional storage locations in the Netherlands. This is also known as self storage.
When you opt for (temporary) storage, you naturally want all household effects to be safe. Fortunately, the storage places at professional companies are always well secured. Security guards are often used, but there is usually also 24-hour video surveillance. This way you can focus on the move and you don't have to worry about the things in storage.
The containers, storage boxes or sheds offered by these companies are always of good quality. This is of course always nice to know if you want to store your household effects. Especially if you've never stored stuff before. The rooms are heated and ventilated so that your belongings cannot get moldy.
Do you opt for (temporary) storage at a professional company? Then you have to arrange everything regarding storage yourself. This means that you have to drive all the stuff to the storage yourself and you usually need one for this van to rent. You will also have to load and unload all your belongings yourself.
In this case, it is also important to take a good look at your contents insurance so that you can be sure that your contents are also properly insured in the event of any damage. It is also wise to ask the company about their terms and conditions and insurance policies.
A professional moving company and (temporary) storage
When you move, you often think of a moving company, but when you think of a renovation or (temporary) storage, a moving company is unfortunately often forgotten. However, you can at a moving company also stores household belongings. This way the movers Not only will they help you with the move to your new home, but they can also provide you with expert advice.
When you opt for (temporary) storage at a moving company, you no longer have to worry about anything. Your belongings are stored under very good conditions. For example, the storage of a moving company is of very good quality. Your belongings will therefore hardly be at risk of damage.
When you move with (temporary) storage, a moving company will not only help you move your belongings, but they will also take care of the storage moving service for you. This means that they have the moving van will load with all the contents that need to be stored and they will drive them to the storage. Here they will unload everything neatly and place it in storage. This way you don't have to do anything anymore!
Storing your belongings (temporarily) with a moving company means everything will be safe. For example, moving companies always have 24-hour video surveillance, so you don't have to worry about anything. What might also be good to know is that a mover will always use professional materials when loading and unloading the moving van. With this you can think of moving boxes of good quality and moving blankets.
Furthermore, you always determine the rental period yourself and the movers will always make clear agreements about this with you in advance.
Rent a container
Did you know that your belongings can also be stored in a container? People often like a container during renovations because the container can easily be placed in front of the door. This way you can easily place all furniture and other items in the container and lock it in the evenings.
The container will be neatly placed at your door by the company and they will pick it up again when necessary. A full container is usually collected for removals because a container is very popular when people move abroad. Usually your entire household contents will fit in a container, which is why containers are usually used for this purpose international removals used.
How much storage space is enough?
Are you busy looking for the right (temporary) storage? Then of course you first want to know how much storage space you actually need. The size of the space that you need depends on the size of your household effects. For this you need to calculate the m3 of your household effects. You can try to calculate this yourself, but this can ultimately be very difficult.
Use our M3 calculator
Because calculating the m3 of your household contents yourself can be quite difficult, we have devised a solution for this at Moving. For this we have now put the online m3 calculator online. You only have to answer a few questions so that the calculator can calculate the size of your household effects. This way you will not only find out how big the storage should be, but you will also know exactly how big the moving truck is that you need for the move.
Storage space costs
Of course, every company has its own prices, but every customer is different. For example, your household effects can be very different from those of someone else and your household effects can also be a lot larger than those of someone else. Of course you also have to look at the period that you want to rent and that is still a lot of things to look at. This means that the average costs for storage are difficult to calculate without further information. This applies not only to storage, but of course also to removals.
Request quotes
If you want to receive an exact price indication, you can do so moving quotes to request. However, it is wise to do this with several companies so that you can compare their services and prices.
The good service from Moving
At Moving you only have to submit one application form so that we can send it directly to the 6 best moving companies in your region. They will then contact you within 24 hours. They do this on the e-mail or telephone number you provided.
---
Frequently Asked Questions
What does it cost to store your household goods?
This not only depends on the amount of furniture you want to lose, but it also has to do with the type of storage space. You can rent a storage space from €4 per month, but also for €30 or even €120 per month.
How much storage do I need for household effects?
The average household in the Netherlands needs about 30 m3. However, it is best to calculate this for yourself. Use our free M3 calculator for this.
Who can help me move?
You can ask your environment for help. They are often willing to help you during a move, but you can of course always hire movers from a professional moving company.
How do I lose my furniture?
You can donate your furniture to charity, have it picked up by the cycle or sell it on e.g. Marktplaats. Don't you have time for all this? Then you can also make an appointment with the municipality for bulky waste so that the items will be collected and disposed of properly.
How many moving boxes are there in a cubic meter?
An average-sized moving box is often 48.5 x 32.5 x 38 cm and has a capacity of 60 litres. This means that 10 moving boxes of this size fit in 1 M3.