You are moving and you have probably already thought about moving your household effects. You probably already know exactly how you want to do it and whether you want to do it yourself or whether you want to hire a moving company for this. This is all very well, of course, but don't you forget other important things? Consider, for example, your energy supplier.
Are you moving soon and do you still want to do some research into the price of energy suppliers? Then if you've never done it before it can be confusing because where do you actually start looking? This is all much easier than it seems at first and Moving is happy to help you with this.
Switching or moving your energy contract?
So you can whenever you want will move choose to stay with your current supplier. However, a move is also a very good time to take a look at your current contract and the remaining term.
Many people want to switch after a move because they are cheaper with another energy supplier. Others prefer not to switch because they don't feel like arranging this or because they simply look cheaper with their current contract.
Choose your current energy supplier or choose a new energy supplier?
When you move out of your old home, you can therefore move your energy contract and take it with you to your new home. But as you have been able to read, you can also get a new energy contract with another network operator. There is so much going on in your mind when moving and it is therefore logical that you may have no idea what to do. Don't worry because we explain it all to you in this article.
When you move somewhere else, you can move your current energy supplier with you, but why would you actually do this? The answers are actually very simple. Or people find it cheaper with their current supplier, but sometimes people simply do not want to switch because it takes time. You just have to figure things out and arrange the transfer. When you stay with your old supplier is one thing report a move Enough.
When you move to another home, it is a good time to look at your consumption and your current contract. Do you pay little or too much for electricity? What is your installment amount? Check everything and then immediately investigate to see how things are with other energy suppliers because you do not want to pay too much. When you see that you are cheaper with another supplier, you can switch. Many people like to do this.
Terminate the energy contract prematurely
Cancel energy contract when moving house? If you want to cancel your energy contract, it is important to first take a good look at the conditions of your current energy supplier, because are you now dealing with a multi-year contract? Is it a fixed-term contract or is it perhaps an indefinite-term contract?
Most energy companies in the Netherlands usually have a term with a fixed contract of 1 to 3 years and when this is over you often get a contract for an indefinite period. If you do not know these things, you can of course always contact your current supplier. Furthermore, it is also the case that contracts have a legal notice period that you as a customer must take into account.
A cancellation fee
Have you checked and do you appear to have a fixed term with your current supplier? Then it is possible that you will be fined because you want to cancel the contract early. This is also known as a cancellation fee. Of course you have to take into account the cancellation fee, but this is actually no reason not to switch.
Many energy companies pay for this termination fee, so that you as a customer can still switch to another network operator free of charge. In this case, always make sure that you inform yourself properly with your current and new supplier.
A contract at two addresses
Are you finally the new resident of your new home? Then you may not be able to withdraw immediately. Think of any renovations or jobs that still need to be completed. In this case, you will have to continue living in the old home for a longer period of time, but you will also have to continue doing odd jobs in the new home. How do you do this now? Can you take the old contract with you and move energy?
Pass on to your current supplier
When you move to a new home and stay with your own energy supplier, you can report this on the dates of the key transfer of your old and new home. This way your energy supplier can supply energy to both addresses.
Another energy supplier
When you choose a new energy supplier, you can have the contract for your new home start a lot earlier. In this way you have an overlap of both contracts, so that you will have energy in your old home, but also at the new address. So in this way switching to a new supplier is also simple.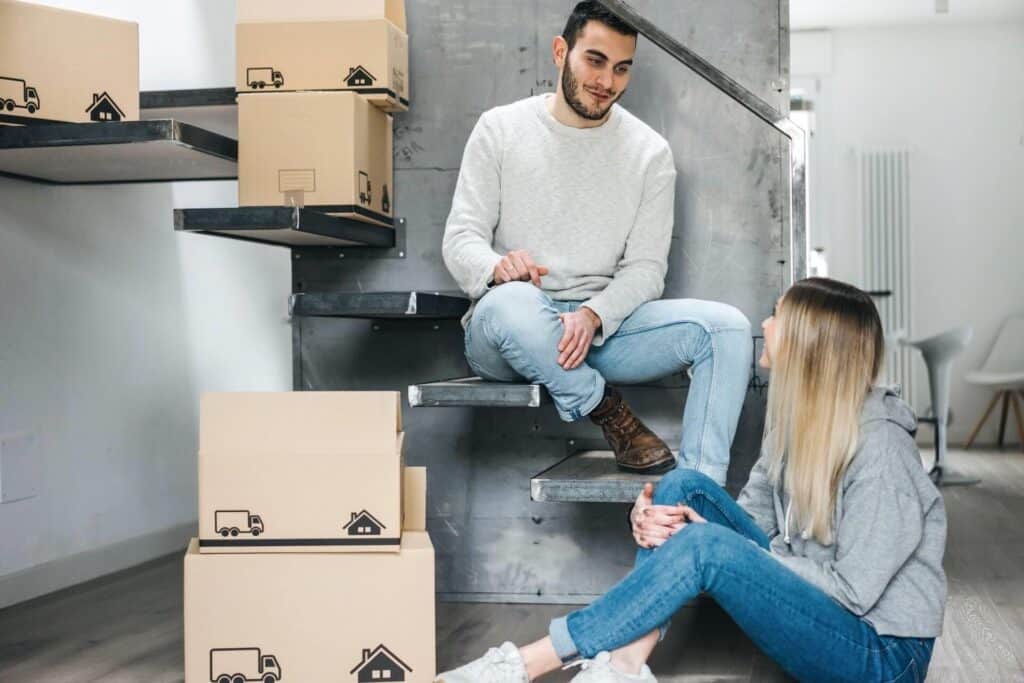 How long does it all take?
Will you stay with your old energy supplier? Then you can get yours report a move. You must do this no later than 2 weeks before your official moving date. Pay close attention to this because you don't want to be without one at the new address electricity and gas come to sit. The previous occupants have of course already canceled all this.
Your new supplier
Are you choosing a new energy supplier? Then it can take 2 to 4 weeks before you are connected. This is due to the fact that when you cancel, you often have to deal with a notice period of at least one month. However, this differs per supplier, so make sure you find this out well in advance.
You are moving house: the final bill and meter readings
When you leave the old house and start delivering, you will of course always be asked about the meter readings. The suppliers naturally want to know what the current situation is at your old address, which is why taking meter readings is so important. It is best to submit the meter readings on the day of the key transfer. Take a picture of your (smart) meter and send it to us. After your move you will receive the final invoice within 2 weeks.
Switching due to solar panels
You can always switch to another energy supplier. If you have solar panels, it is wise to schedule your switch date as close as possible to your annual meter reading. This way you can prevent the power you generated yourself from being lost.
During the summer months, for example, you generate more energy that you can use during the coming winter months. So when you switch around your annual meter reading, you get the maximum benefit from your own yield. You can find the date of your annual meter reading on your most recent statement.
Finally
Move in and get everything right. Don't wait for the latest possible date, but start on time. Take a good look at your average annual consumption in advance and start your research into a suitable energy supplier for your new address. This way you also know immediately whether your old energy contract is advantageous or not. In this way you can ultimately choose a (new) energy supplier.
---
Frequently Asked Questions
What to do with energy contract when moving house?
You can move your energy contract to the new address, but you can also switch to a new supplier.
Can you take over an energy contract?
Yes, the current energy contract can be transferred to another name. In this case, the energy supplier will change the names on the contract. Keep in mind that a supplier also sees a name change as a breach of contract and a fine may have to be paid.
How soon after moving energy contract?
It is best to have arranged everything with regard to the supplier about 3 months before the date of your key transfer. This way you have energy immediately upon arrival.
Can you have two energy contracts?
Yes, you can certainly have two energy contracts. This can sometimes even be necessary during a renovation or relocation.
How long without an energy contract?
You can use the energy of the network operator for a while after the move, but he will contact you after a while that if you do not sign a contract, they will close everything.