Are you planning to move to a new home this year? Then we know for sure that you are counting on a stress-free move. Who doesn't want this? Unfortunately this is not always possible. No matter how hard you try. A move is chaotic and this can simply entail the necessary stress. To your regret, you often cannot avoid a move and you simply want to be there during the move. If you decide to carry out the move yourself, this is of course even necessary.
Fortunately, when you move house in the Netherlands you are entitled to special leave with most employers. Fortunately, a move only takes one day or a maximum of two days, so you don't have to take too many days off.
You are moving, when special leave?
In general, an employee in the Netherlands can take a maximum of 2 working days off for a move. These few days off must of course relate to the company's conditions. Remember that an employer is not obliged to release you, so keep this in mind.
Which days actually fall under special leave in the company and do you get paid? This is all stated in your collective labor agreement or employment contract. Therefore, make sure you read it carefully. Always keep in mind that entitlement to leave is unfortunately not always possible.
Special leave is not regulated by law in the Netherlands
As you have read before, you can request special leave from your employer in the Netherlands. Unfortunately, days off for a move are not laid down in law and your boss can ultimately decide this all by himself. Would you rather not immediately bother your employer with questions about special leave? Then of course you can always first consult your employment contract, personnel department or your collective labor agreement.
Have you found the articles in your collective labor agreement about days off? Then it is important to read the terms and conditions carefully. It may also be the case that your company has company regulations and you must request a certain number of days off before the move.
Take moving day leave, how to apply for special leave?
In the first instance, when you move, it is of course important that you can demonstrate when the move will take place. Employers like to hear in good time that you want to request days off, so make sure that you request these well in advance and do not wait until two days before the move. For example, make sure that there are at least 14 days between the move and the request for the days off. Yes, sometimes it can be an emergency move and in this case your employer will of course understand that.
No moving leave, now what?
Are you not entitled to leave and do you therefore not have any special days off? Then this is of course very unfortunate. You can of course always take days off in this case. Do you actually not want to take any days off for the move to your new home? Then it is best to plan the move during the weekend.
Don't want to take vacation days?
The number of days in a year that you can take off is of course already so few and you may not want to take it at all before moving house. Perhaps you need a specific number of days off for a holiday you have planned later in the year or for other reasons. In this case, you can plan the move during the weekend as you have read earlier. Please note that relocations during the weekend are often slightly more expensive, so that employees ultimately choose to use their vacation days.
Why is a move sometimes more expensive?
It is generally known that removals during the weekend or in the evenings are more expensive than removals that take place during the day on a Monday, Thursday or, for example, Friday. This is of course not just. This is due to the fact that the evenings and weekends are of course very popular among the customers. In addition, moving companies often have to pay their staff twice during the evenings or on Saturdays and Sundays, which means that they have higher costs. And these costs are of course ultimately passed on to the customer.
Move quickly and easily with a professional moving company
Do you want to move in an affordable and efficient way? Then of course you can always opt for professional movers. The experienced movers can not only help you on the moving day itself with moving your household effects and the extra moving boxes to your new address, but they can help you with many other things. These moving services are of course always offered for a fee, but in the end you can of course always decide for yourself which moving services you would like to use and which you would not. So you can make a move as expensive or cheap as you want.
Moving companies offer their customers a packing and/or unpacking service. In this case, the movers will come by one day before the move to pack your belongings and furniture. They have years of experience with this and know exactly how to do it. This way you can be sure that your belongings will be safely moved to your new home. Do you also hire an unpacking service? Then the movers at the new address will also unpack all the stuff and put it where you want it.
Are you considering hiring a handyman for the small jobs in the old and new home? Then you don't have to look any further, because the moving company can also help you with this. The handyman of it moving company can help you with (dis)assembling furniture, connecting and disconnecting electrical appliances and, for example, removing painting or objects from the walls. These jobs are usually done in both your old and new home.
Can't you move everything with you during the move? Don't want to throw the stuff away, but sell it on Marktplaats, but haven't had the time for this yet? Then you don't have to worry about this anymore. You can also use their storage space at the moving company. In this case, the movers will load all objects into the moving van and drive them neatly to the storage area. Here they will also unload it and place it in space. That way you don't have to do anything yourself. And with most moving companies you can also place extra items in the meantime! Very nice right? Such a service.
And you don't have to worry about the security of the storage space either. These are usually secured 24 hours a day with camera surveillance. Furthermore, the climate is always regulated in the rooms so that your belongings cannot be damaged. You can think of, for example, fungi that occur in many attics and garages.
Were you unable to take any days off before the move and do you want the move to be over as soon as possible? Then a moving lift can help you move more safely and quickly. Yes, a moving lift is sometimes even necessary. For example, if you live on a higher floor or if you have narrow doorposts or a stairwell that is too narrow and the movers cannot move the objects without a removal lift.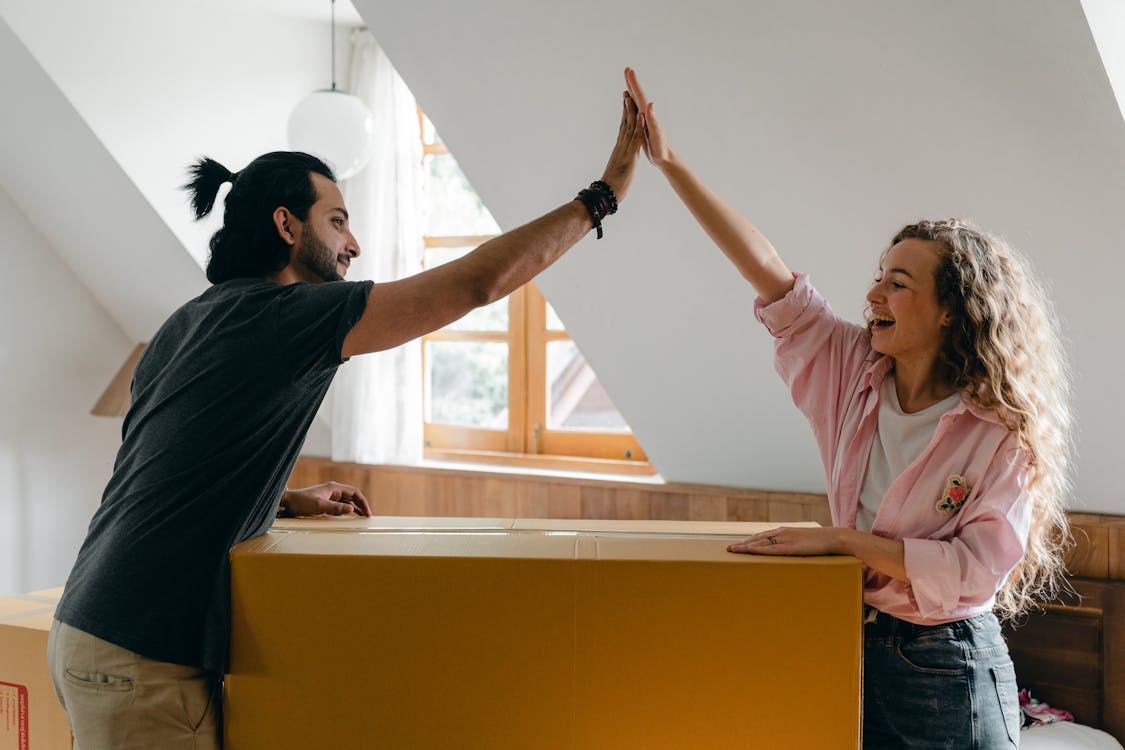 What are the moving costs?
The costs for a move zijn altijd anders. Dit heeft zoals je eerder hebt kunnen lezen niet alleen te maken met de dag van de week waarop de verhuizing plaatsvindt, maar bijvoorbeeld ook met de extra verhuisdiensten die je hierbij huurt. Daarom is het altijd belangrijk om moving quotes aan te vragen zodat je de prijzen met elkaar kunt vergelijken. Let er wel op dat het soms voordeliger kan zijn om uiteindelijk toch die vrije dagen op te nemen. Als is het maar een dag of twee dagen.. als het voordeliger is waarom niet?
Request quotes
Do you want to know what the move costs at every moving company in your area? Then you can contact any moving company to request a moving quote. This way you can see which services they offer and you can compare the prices.
Moving is happy to help you move
At Moving we know that you probably don't have the time to contact every moving company. Then you would probably need even more leave for this and your employer is probably not waiting for that. At Moving we would like to help you move and that is why we have come up with a solution for this.
That is why you can now request free quotes from Moving. You only need to submit one application online. Your request will be sent to the 6 best moving companies in your region and you will receive the non-binding quotes within 24 hours. This way you receive all quotes with one click and you only have to compare them.
---
Frequently Asked Questions
Are you entitled to a day off for moving house?
Special leave is not regulated by law in the Netherlands. Your employer is therefore free to determine this itself. You can find out whether you are entitled to this in your employment contract.
Can I just take time off?
This is possible, but your employer must of course agree to your leave request.
Can a day off be refused?
This is only possible when there are 'weighty reasons'. This means when approval of your vacation request could lead to serious disruption at work.
How long does your employer have to approve your vacation?
Your employer has 2 weeks to approve or reject your holiday request.
What does a day off cost?
The value of your vacation day is equal to the financial compensation that the employee receives. Your employer often only pays the usual salary plus any holiday allowance.