According to recent reports, nothing is trendier than minimalism these days. More and more people are choosing to get rid of all unnecessary stuff and then live as minimalist as possible. And what better time to declutter than during a move?
Are you moving soon?
If you are planning a move soon and do not want to move unnecessary items to the new home, now is the time to take a good look at your belongings and furniture.
You often have a lot of things that have more of an emotional value than are really functional. That is why it is useful to look at what you will actually use when moving. Don't you use it?
You are moving and leave the unnecessary things behind
As you may have read before, you only realize how much stuff you have when you are packing. You may have saved these in boxes in your current home and you have not thrown these boxes away because of the pleasant memories.
Now that you are moving, you can no longer keep these things and you can choose to do different things with them. Here are some useful tips!
Give stuff away
Give away items that are still in good condition. This way you can not only declutter, but you also ensure that these items get a second life. If something still works well, you don't have to throw it away, do you? Giving away is a much nicer option, isn't it?
Fortunately, throwing away is not necessary and you can put it in certain boxes moving boxes save it and donate it to charities. Consider, for example, the Salvation Army. They are often very happy with clothes, for example. In this case, giving away a cupboard is of course a lot more difficult.
Are you quietly cleaning up the house and decluttering? Do you realize that you have a lot of things such as cupboards in the garage and, for example, unnecessary kitchen utensils in the cupboard in the kitchen? Then you probably can't return it. Even if you still have the receipts! Of course, you want to prevent everything from ending up in the trash.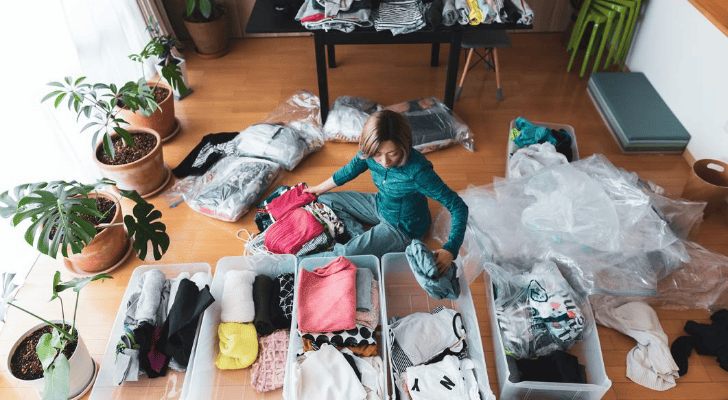 Delivering the items to a charity yourself can be quite a task. The move has already taken a few days and saying goodbye is already hard enough for you. In this case you can have everything picked up by the local thrift store. They are very happy to do this and completely free! A lot easier, right?
Not sure if there is a thrift store near you? Then of course you can always look this up on the internet.
Sell your stuff before you move
If you are moving to a new address and want to declutter first, you may choose to sell everything. This way you can declutter, so you don't have to move everything to the new house and you even earn some pocket money from it!
You can ask family and friends if they are interested in certain items. They are often willing to buy things. Maybe they've even been waiting for this moment for a long time!
If you can't find anyone in your area, you can also sell the items online. Think of websites such as Vinted or marketplace. An item in good condition can make you a lot of money.
You may also be able to organize an open house for friends and family. Friends and family will probably love this opportunity!
A temporary storage facility
Are you cleaning up and moving to your new home soon, but you have no idea what to do with all that stuff? Is it still too difficult to let go of the memories? Then you can also choose to order the items first temporarily in a warehouse store.
Wanneer je voor een opslagplaats bij een professioneel moving company kiest zullen de verhuizers al je inboedel bij je op komen halen om deze vervolgens netjes in hun opslagruimte op te slaan.
Op het moment dat je weet wat je met de spullen wilt doen hoef je dit alleen aan de movers te laten weten zodat zij alles weer netjes bij je kunnen afleveren. Als je geen spullen wilt weggooien, maar spullen wilt opslaan voor een bepaalde tijd dan is dit de beste keus.
Throwing away the stuff
If you want to sell stuff, but this is not possible or if, for example, you still have old camping gear that you have no use for or if you think that your stuff is of no use to a good cause, you can still choose to throw it away.
Throwing it away is your least environmentally friendly option, but if you cannot or do not want to give away the old stuff then unfortunately there is no other option.
Tips for decluttering
Are you packing everything and just putting everything in a moving box? Then it might be better to know this now... this is not always the best option. It is best to approach decluttering with a plan.
Think carefully
Do you have a closet that you are attached to? Or are there things you think you'll use in the future? Then these are often the memories that try to drive you crazy. For each item you are unsure about, consider whether you have used it recently. Have you barely used it? Then this item can simply go.
Work systematically when decluttering the house
One of the most important tips we can give you is to work systematically. For example, make a box for each room or category and put the items related to the sticker on the box in it. This way it is clear to everyone what is in it. Decluttering is easier than you think!
Frequently Asked Questions
Why would you declutter?
Because various studies in recent years have shown that the less stuff you have, the happier you are!
How to start decluttering?
Start small and start with spaces that you don't attach great emotional value to. The kitchen, for example. This way you can continue to build up to spaces where you have things that you are attached to. Consider your bedroom, for example.
Why is decluttering difficult?
We humans attach great value to things and especially when these are positive memories, it is difficult to get rid of these things.
What is the Marie Kondo method?
Marie Kondo's method is to rigorously tidy up your entire house and therefore your life in one go. She does this per category and not per room. Ultimately, you only keep the things you love.
How much stuff does a person need on average?
American research has shown that an average person in America has 300 things at home and this is not very different for the average Dutch person. If we have to believe Marie Kondo, this is also way too much.