Are you looking for a professional and reliable team of porters to help you with your move? Hiring porters can be a wise choice to make your moving process run smoothly and efficiently. Whether you are a private person moving into a new home or a company looking to move office space, porters can provide you with valuable support when hauling heavy furniture and moving your belongings. At Moving.nl we understand the importance of professional porters during a move and we offer flexible and high-quality moving companies that employ porters who can make your move go smoothly. And this throughout the Netherlands!
Professional porters for various removals
Hiring porters is relevant for various types of relocations. Whether you are moving a small home or a large office building, the movers are experienced professionals who can relieve you of your worries. They can be used for: private relocations, but also for project and office furnishers. Whether it concerns moving furniture, carrying heavy objects or loading and unloading a moving van, carrying work is always necessary!
At Moving we understand that every move is unique. That is why we offer flexible porters that adapt to your specific wishes and budget. Whether you need porters for a move within the same city or want to hire porters to Groningen, we make sure you have the right professionals at your disposal.
Benefits of hiring porters through Moving
Hiring specialists via Moving.nl offers various advantages. Firstly, you can count on reliable and skilled porters. Our movers are affiliated with us for a reason. They are well trained and have extensive experience in the field. They work efficiently and ensure that your belongings arrive at their destination safely and undamaged. We only work with the very best!
At Moving.nl you can request a customized quote. We understand that every move is different and that you have specific wishes and requirements. By requesting a tailor-made quote, you gain insight into the costs and you can make an informed decision. Porters professionals take care of your move, but at Moving we help you find the best moving service at the best prices. We are happy to help you in every possible way.
Every job is carried out in no time with the professional movers
Experienced movers ensure an efficient and safe move. They work according to a structured method and use professional moving materials. This allows them to carry out the move quickly and carefully. In addition, we also offer extra services, such as packing and unpacking your belongings, to make the moving process even easier.
At Moving, customer satisfaction is of paramount importance. We strive to make your move a success and to ensure that you are satisfied. We always provide the best service. It is no coincidence that movers work with Moving.nl. This is how we work together and you have a well-planned fast move.
The working method of porters during removals
When you hire porters through Moving.nl, you can count on a structured and professional working method. We work with the best moving companies. These are skilled and ensure that the move is safe and efficient.
When moving furniture and household effects, the movers use professional moving materials. They know exactly how to lift and move heavy objects without causing damage. They have experience working with different types of furniture and know how to pack and transport it safely. Whether it concerns valuable antique furniture or large heavy cupboards, the movers will treat your belongings with the utmost care. Everything is done to your satisfaction.
During the moving process, professionals ensure that everything runs efficiently. They work according to a plan and know how to make optimal use of the available space in the moving van. This allows them to load and unload quickly and efficiently, so that your move is completed faster.
Additional moving services
In addition to hauling furniture and household effects, moving companies also offer extra services, such as packing and unpacking your belongings. This can save a lot of time and effort, especially if you don't have time to pack everything yourself. The handyman and packers ensure that your belongings are safely packed and can also unpack them in your new home. So you can quickly enjoy your new place, without having to worry about unpacking boxes. The gentlemen like to think of everything.
Hire porters via Moving.nl. Simple and fast.
Hiring porters via Moving.nl is a simple and fast process. You can easily submit an application for a professional via our website moving company. You indicate what your specific wishes and requirements are, such as the number of porters you need and the duration of the job. We will then send your request to the 6 best moving companies in your region. This way you can choose the best moving team yourself. They will contact you within 24 hours to discuss the costs for 2023.
At Moving.nl we believe in direct contact between you and the porters. That is why we ensure that you can communicate directly with the porters you hire. This gives you the opportunity to ask any questions, give specific instructions and discuss the progress of the move. We strive to facilitate transparent and open communication, so that you can move with confidence.
Conclusion
Hiring porters is a smart choice if you want a smooth and efficient move. At Moving.nl we offer professional moving companies that employ flexible staff for various moves. Whether you are a private individual moving to a new home or a company that wants to move an office space, we are happy to assist you.
It hiring a moving company via Moving.nl brings many advantages. You can count on reliable and professional porters who will ensure an efficient and safe move. We offer the option to request a customized quote so that you have insight into the costs. We believe that moving companies work according to a structured working method and always use professional moving materials.
Hiring porters via Moving.nl is simple and fast. You can submit an application via our website and get in touch with the porters directly. We offer flexibility in working hours and duration of the job so that we can meet your specific needs. The rates are transparent and based on the hours worked.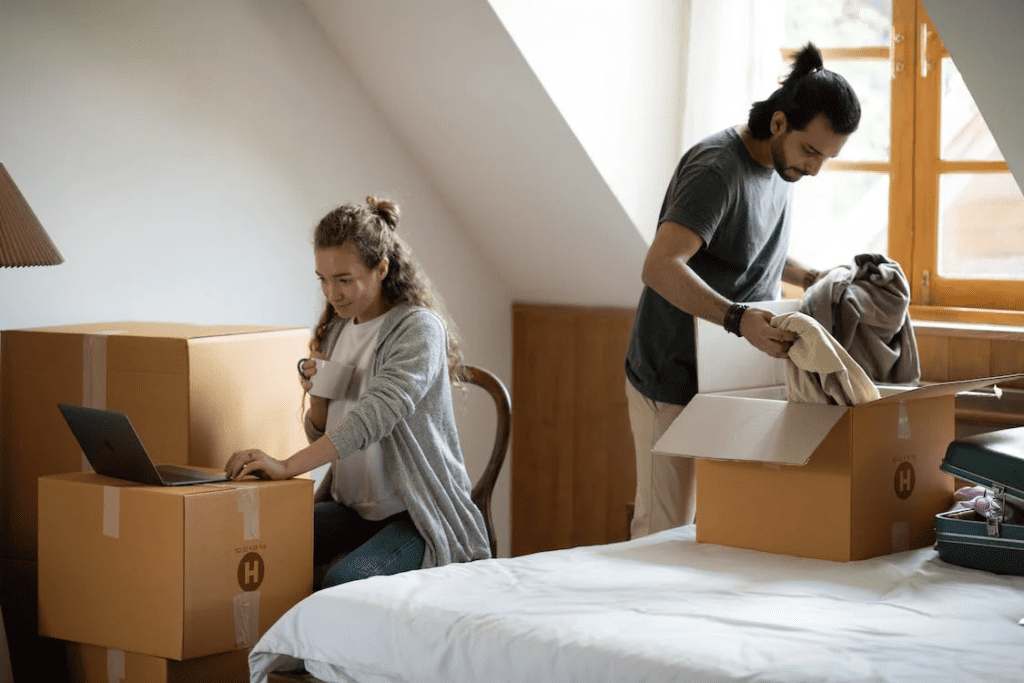 Frequently Asked Questions
How many porters do I need for my move?
The number of porters you need for your move depends on various factors, such as the size of your household effects and the complexity of the move. Just never wait until the last minute and make sure you submit a quote request in time so that you can be sure that enough movers are available. 
Can I hire porters to do chores around the house?
Absolute! In addition to removals, affiliated removal companies can also be used for various odd jobs around the house. Whether it's moving furniture, lugging heavy objects, or performing other handy jobs, the movers are professionals who can help you with a variety of tasks. 
What are the rates for hiring porters?
The exact rates may vary depending on factors such as the duration of the job and any additional services you may require. Contact us for a no-obligation quote from 6 different moving companies. All you have to do is fill in the simple and free form on our website. We want you to move from A to B quickly and easily.
What if damage occurs during the move?
In the unlikely event that damage occurs, the moving company will work with you to find a suitable solution. Most movers are insured during the work, so that any damage can be covered.
Are the porters insured while working?
Yes, most moving companies are insured while carrying out their work. This offers extra peace of mind, both for you and the movers. In the unlikely event of an accident during the move, the porters are therefore often insured against any damage.