When you are moving, outsourcing your move is of course a great option. A move is of course stressful enough and if you have found a relocation specialist who can help you pack, move and unpack your belongings, then this is a nice bonus, right?
Surrender everything
You might not expect it, but our little country has a lot of (national) moving companies that would be happy to help you move. And who actually says that professional and moving cheaply is not possible?
You've probably already searched all over the internet for 'moving company costs', but this has not made you any wiser. Don't worry because you are definitely not alone. The 'moving company costs' These are not just standard costs and the costs obviously depend on various factors. One thing that is certain is that a professional move does not have to be that expensive and there are plenty of moving offers.
At Moving we want everything to be as clear as possible. That is why in this article we try to explain to you what a professional move exactly entails and we also try to explain to you what a move costs. When you move If you are going to outsource your move, you will of course want to know in advance what the costs of a moving company are.
Carry out the move yourself
Of course, relocating people in the Netherlands sometimes choose to carry out the entire relocation themselves. The idea here is 'then moving won't cost that much'. However, nothing could be further from the truth, because even when you carry out the move yourself, cheap moving can sometimes be disappointing.
What affects moving costs?
Carrying out a move yourself means that you do not have to pay any costs to the moving company, but you will still have to deal with other costs. Consider, for example, renting one moving van and other costs transportation.
Carrying out a move yourself also takes a lot of time and you also have to arrange everything yourself. For example, have you already thought about a parking permit? Do you need a parking permit for the moving van or are you just going to pay per hour at the machine? Of course you should not forget the moving materials. All in all, as you can see the costs can be higher than you might have initially thought.
You are moving! What are the costs of a moving company?
An important aspect of a move is good preparation. Therefore, do good research and look at (regional) movers because it often happens that prices differ per municipality. If you do proper research, you can choose relocation specialists who provide you with extra help movers can help.
For the move of a flat you pay between € 850 and € 1100 at an unrecognized moving company. For a terraced house this will soon rise to between €1200 and €1900. Do you live in a semi-detached house? Then you will soon have to pay between € 1850 and € 2650.
Extra services
A moving company can help you with multiple movers on moving day, but did you know that a moving company can do a lot more? A moving company offers many moving services so that moving can be even faster and easier. Yes, the number movers you can hire is of course also nice, but with these extra services it can all be even easier.
Yes, the costs of a move will increase somewhat, but this way the move will go faster. Do you have a somewhat lower budget? Then of course you can only choose the options that you really need. This way, you can ultimately make a move as expensive or cheap as you want.
Elevator assistance for a big job
During a move a rent a moving lift are necessary. Consider, for example, when you move from an apartment and live on a higher floor or when the stairwell or doorposts in the (detached) house are too narrow. So you can see that a ground floor move can also require a moving lift.
It may also be the case that renting a lift is not necessarily necessary, but that a customer still prefers to ultimately rent a removal lift. This is due to the fact that such a lift not only makes the move easy, but that it will also make your move go faster. If you already have the move carried out by a moving company, they will also offer you the best deal for a lift.
You can often rent an electric removal lift for €95 to €155 per day. A ladder lift with an operator is even cheaper and usually costs around $70 to $95 per hour.
(Temporary storage)
Are you moving or perhaps just renovating? Then it may be necessary to store household effects. Storing your belongings is for a moving company often not a problem because they often have their own storage spaces. This way you can store the extra items that you don't have with you during a (large) move
If you opt for extra storage, the movers will load all your belongings into the (larger) moving van and drive all your belongings to storage. Here they will unload the moving van and place all your belongings in storage.
Do you want to access your stuff in the meantime or do you want to place extra stuff? Then this is no problem and you only have to pass this on to the moving company. If you later want all your household effects back, the moving company will deliver everything neatly to the address you specified.
A rent storage space This is possible from €4 per month. However, in this case your space is very small. For an average-sized storage space you often pay around €30 per month and for the largest professional storage spaces you often pay around €120 per month.
Movers costs
There is a lot more to consider during your research into a move. Unfortunately, this is not only about the type of moving van you may need, but of course also about the other possible costs.
As you have read before, the prices differ per municipality and of course also per moving service that you purchase, but what you may not have known before is that you also have to make a choice between recognized moving companies and unrecognized moving companies. We are happy to explain the difference to you.
You have just been able to read what the costs for non-recognized moving companies are. For a recognized moving company you usually pay between € 1700 and € 2200. We are happy to explain to you why these costs are higher.
The trade association Recognized Movers
In the moving world in the Netherlands, we have a branch organization called Erkende Verhuizers. These are (national) moving companies that have chosen to join the organization. The reason for this is often that they can offer their customers different guarantees in this way.
The benefits of a Recognized Mover
When you hire a recognized moving company, they can offer you several guarantees and good insurance. This is of course only possible if the removal company is affiliated with the trade association. A well-known example is that a recognized moving company gives you a guarantee certificate when booking, so that you can be sure that your move will continue at all times. Also, for example, in the event of a bankruptcy.
Furthermore, recognized moving companies all have the same General Terms and Conditions and they also offer you top insurance. Within the Netherlands, for example, your move is insured up to €100,000 in the event of damage!
Extra guarantees mean extra costs
Yes, recognized movers can offer you these guarantees and insurances, but recognized movers must of course also pay costs to the trade association for this. These costs are of course passed on to the customers, which means that Recognized Movers are often a bit more expensive.
Unauthorized movers
An unrecognized moving company is not necessarily less good because every professional moving company within the Netherlands naturally does its job properly. The reason such a moving company chooses not to join is often because of the high costs. Furthermore, a (regional) movers can also remain independent in this way and determine everything themselves. Consider, for example, lower rates because nothing has to be passed on to the customers.
Moving with an unrecognized moving company
As you have read before, you do not have to worry if you move with an unauthorized moving company. The only thing that is very important in this case is that you read the General Terms and Conditions of the moving company carefully, because non-affiliated moving companies all have their own conditions.
It is also wise to inform yourself well about the insurance policies that the moving company offers, because you naturally want your household goods to be properly insured during the move.
Average moving company costs
As you read earlier in this article, you can make a move as expensive or cheap as you want. For one person who is moving, the moving costs so be a lot lower or higher than the other. This is of course not only due to the standard costs of a moving company, but also depends on the personal wishes of the customer. For example, is only one extra mover needed or are a number of movers needed, is one moving van needed or are a number of moving vans needed and a handyman needed? Oh, and don't forget the standard call-out fees.
The extra moving services therefore have a major influence on the total moving costs and a move may therefore cost you a little more than for someone else. Consider the previous examples of, for example how many movers are needed are and the amount of stuff.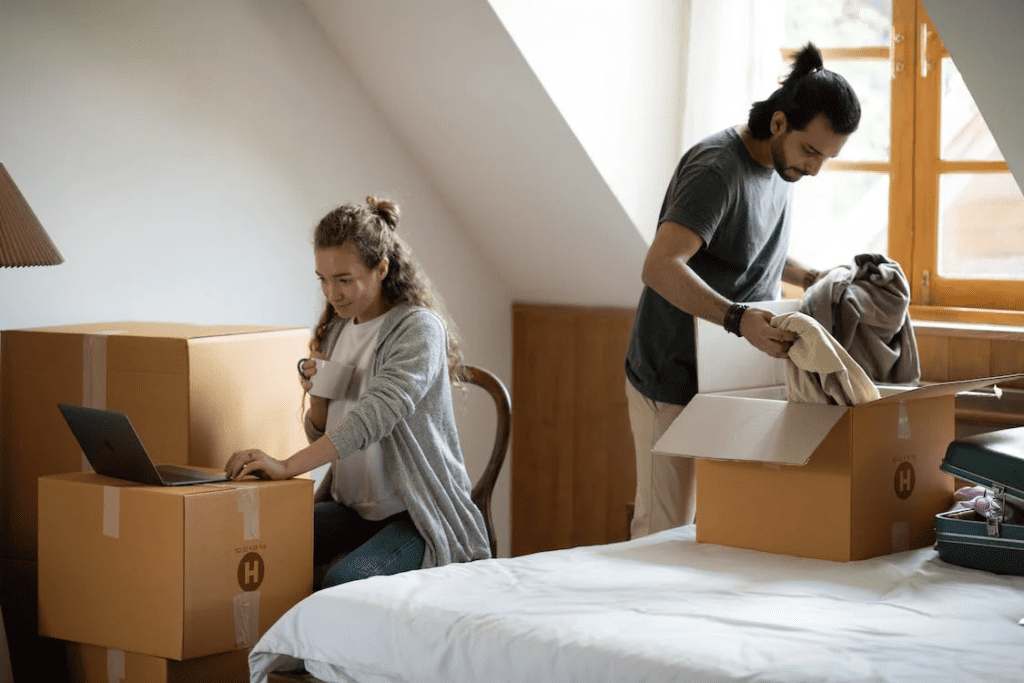 Transport costs
For a small moving van including driver, you often pay between €25 and €30. For a large moving van including driver, you usually pay between €253 and €290.
Cost of moving material
With an average size move you will spend approximately between € 150 and € 200 on moving materials.
Choosing a moving company
Because the prices of companies depend on several factors, you may be able to request different quotes so that you can compare them with each other. What services does the moving company offer its customers and at what prices?
With Moving you only need to fill in one application form to find out the exact costs of your move. After we have received your application, we will send it free of charge to the 6 best moving companies in your region. They will then contact you within 24 hours.
On the quotes you receive you will of course not only find the total prices, but also the prices for the various services. The mover explains this in detail in the quotation. That is why it is wise to compare these carefully so that you can ultimately choose it moving company that is the best suits your budget and wishes. This way you can move with a good feeling!
Use the Moving relocation calculator for free
Are you curious about the average costs of the move? Do you therefore want an estimate of the costs first? Then you can now use our relocation calculator for free. You only have to answer a few questions so that the calculator can make the best possible estimate of the average moving costs.
Of course you don't know exactly how much the move will cost, but this way you can get an idea of the average costs and you know what to expect later.
Frequently Asked Questions
What are the costs of a moving company?
For the move of a flat you pay between €850 and €1100. For a terraced house this will be between €1200 and €1900. Do you live in a semi-detached house or detached house? Then you will have to pay approximately between € 1850 and € 2650.
What does a moving van with staff cost?
Renting a small moving van including driver usually costs between €39 and €59.
How much does a moving company cost per hour?
Moving companies usually charge between $33 and $39 per mover per hour.
How far in advance to arrange a moving company?
Of course you can never start planning your move early enough, but as a guideline, at least 4 to 5 weeks before the moving day is often used.
How much time do you need to move?
This of course depends on how much household effects you have and what the distance between the houses is. In general, a private move often takes no longer than 1 day.