A move or a renovation are often turbulent periods in someone's life. In both cases, items must be moved from the home. If you move, they will have to go to the new home and if you are renovating, they will probably have to go to the attic or garage. In both cases you can also opt for (temporary) storage. This way you can store your belongings so that you can use them again later.
Moving and storage throughout the Netherlands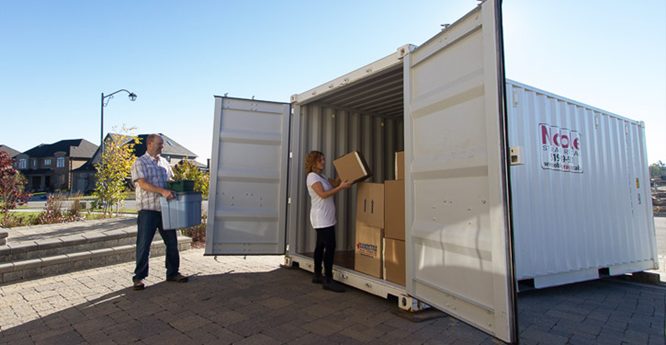 It is more common during renovations, but sometimes also during relocations. During renovation you naturally want to prevent your belongings from being damaged and in this case mobile storage such as a moving container or multiple containers selected.
When moving, it is usually the case that certain objects cannot be moved with you. In this case, you can store the items at a storage company.
Your belongings (temporarily store)
Fortunately, there are many different options for external storage in the Netherlands and we are happy to explain these to you!
Types of storage space
A rent storage space can be done in different ways. For example, you can store the items yourself at the appropriate companies, but you can also choose to use a rent storage space from a moving company.
Take a good look at what type of storage you need
The sizes of the storage spaces are of course all different. For example, there are very large spaces for a large amount of stuff, but there are also smaller spaces for when you only want to store a number of objects, for example.
Storing personal belongings
It is increasingly common for people to rent out their extra spaces. Often these are garages they don't use or a barn on the ground floor that just happens to be empty. Of course you can earn some pocket money with this.
Such temporary storage is often cheap but..
Renting storage from a private individual is often very cheap, but in addition to the costs being important, it is of course also important that your belongings are safe. Unfortunately, the rooms in private homes are often not of good quality and your belongings run the risk of being damaged by, for example, mold. If you want to temporarily store household effects at private homes, it is therefore very important to inspect the space properly in advance.
A moving company
Have you already chosen to temporarily store your belongings with a professional? moving company? Then this is a very wise choice. Storing your belongings with moving companies has all kinds of advantages. You don't have to worry about anything because the movers will take care of everything for you.
The movers will ensure that your belongings go to storage and will also load them neatly into the room. Do you need the stuff alter again? Then the movers will neatly drive it to you and unload the truck neatly.
You can also rest assured that your belongings are safe with professional movers. For example, there are almost always security cameras and the room often has a special lock. Furthermore, with professional movers you often do not need extra contents insurance. As you can see, your belongings are safely stored in the warehouse of a mover.
Self storage
Self-storage is a great alternative if you don't want to use mobile storage. These companies have many small spaces that you can use as a private person. Always ask for their prices and conditions with these types of companies so that you do not have to deal with hidden costs later.
Tips for storing your belongings
How much space you need depends of course on the circumstances. You can think of the size of your household effects, but also, for example, the rental period. To calculate the size of the room, you need the m³ of your household contents. You can calculate this yourself, but this is a fairly complicated job. Calculating in general can be quite tricky right?
Use our m3 calculator for free
At Moving we have tried to make it all a bit easier for you. That's why you can now use the free of charge with us m3 calculator. You only have to answer a few questions about your belongings. For example, you can consider the size of the cabinets that you want to move and the rest of your belongings. When the calculator has enough information, it can calculate the size of your belongings.
The calculator can be found in the table below.
Storage space costs
The prices for renting a storage unit are very different. Companies often have fixed prices, but it may also be the case that you need extra options. Or maybe you are a business customer and services for business customers usually have different prices.
Request quotes for furniture storage
Do you want to know how much renting a storage space costs and have you already searched the entire internet for 'cost storage of furniture'? Then this probably has not been of much use, because unfortunately there is little information about this. It is therefore best to find out the exact costs of renting storage moving quotes requests from storage companies.
Free quotes at Moving
Do you want to know what renting a storage unit will cost you? Then, instead of searching for all moving companies yourself, you can now also receive several free quotes with one request. For this you only have to fill in one application form at Moving. We will send these to the 6 best moving companies in your region and they will contact you within 24 hours.
---
Frequently Asked Questions
What does storage at a moving company cost?
You can already rent a small storage space for €30 per month, but for a somewhat larger storage space the price can rise to about €130 per month.
How much storage do I need for household effects?
To know how much storage you need, you need to calculate the M3, also known as cubic meters, of your household contents. You can now use our M3 calculator for free.
Where can I store my stuff?
You can choose self-storage, garage boxes or moving companies. Also, storage containers are very popular nowadays.
Who buys my belongings?
You can sell your household effects on Marktplaats. Some evacuation and/or removal companies also purchase household effects.
What does not fall under household contents?
Items that are attached to a home do not fall under household effects. For example, consider your kitchen.