Move yourself. Why not? Many people who are going to move are hesitating between the choices to move themselves or to have them moved. Making such a decision about an entire move can be quite difficult because what is wisdom? Do you really have the time and desire to arrange everything yourself or would you rather outsource and opt for one moving company?
You are moving: the advantages of moving yourself
You came to this blog for a reason, of course. You want to move yourself and you probably need some tips. Fortunately, you have come to the right place for this and we can provide you with the best tips at Moving!
Move cheap yourself as a cheap mover
You're moving soon and you're probably going to do this all by yourself. However, don't forget to call in the necessary auxiliary troops? Think of family, friends and acquaintances. It is not wise to carry out the move on your own.. actually this is simply impossible, isn't it? After all, you are not a machine that can lift a washing machine on its own.
Rent your own moving van
When you carry out a move yourself, you can end up a lot cheaper, but unfortunately not. For example, have you already thought about renting a moving van? Transport is not always very cheap and it is best to first request a non-binding quote from a moving company.
The best moving tips
Bee Moving We are happy to help you move (large) furniture. Unfortunately, this is not physically possible, but we do have the best tips for you to make your move go smoothly. So read on quickly!
Start on time!
You are moving and it is very important to start planning your move in time. Think of the preparations, the steps and especially administrative matters. So don't put these things off until the last minute.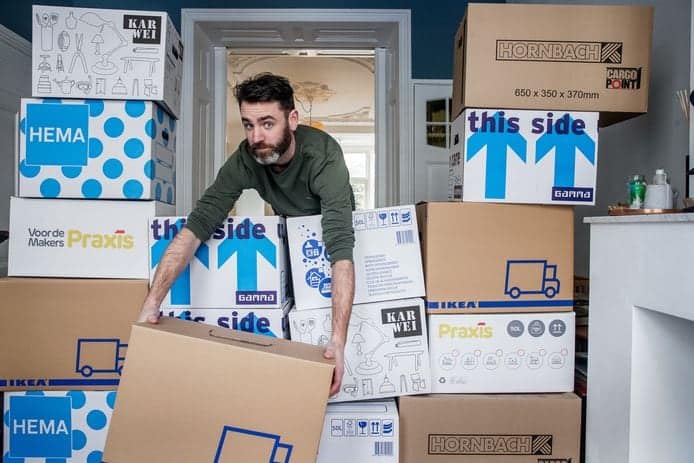 Make a checklist
At Moving we have a handy one roadmap put online for you that you can now easily download. It might also be useful to personalize this step-by-step plan so that it fits your tasks exactly. This way you avoid forgetting something!
Pack moving boxes
You want to move things with you to your new home and of course you need to pack them. However, this is probably not possible because you obviously still want to use the items. The best thing to do is pack a few boxes every day. This way you can reduce to the things you need until the last minute. This way you avoid the necessary stress.
Boxes don't fall out of the blue during a move and you may have already seen it, but moving boxes are quite pricey. It is therefore more than logical that you will not end up with too many or too few boxes. At Moving we have come up with a solution for this and that is ours moving boxes calculator. With this smart calculator you only have to answer a few questions so that it can calculate everything for you.
Measure everything
It is important that you know the size of all objects in your home in advance. This way you can check well in time whether everything fits through the door or the stairwell. Doesn't this fit? Then you can, for example, a rent a moving lift.
Calculate the volume of your entire household contents
If you are moving yourself, you will of course also have to rent a moving van yourself. To be sure that you rent the right size moving van, it is important to first calculate the size of your household effects. You do this by calculating the m3 of your household contents. You can use our handy tool for free m3 calculator.
Is there parking?
When you move to your new home, you will of course need a moving van on the moving day. Most household effects even require a removal lift. In both cases, parking is required so that these objects can be safe and close to your home.
Empty the refrigerator
Try to eat the last food from your fridge and freezer so that you can empty and clean it in time. This way you don't have to throw anything away and you ensure that your fridge and freezer are empty and clean. This way you also prevent any damage because the coolant in the refrigerator can then settle and solidify before the move.
Hire a professional moving company
After reading all the tips, do you no longer want to move yourself at all and do you want to hire skilled men for this? Then this is very possible. Why would you actually move yourself when you can outsource everything to real professionals? This way you can move quickly, safely and with peace of mind.
Professional movers know what they are doing
Moving yourself can be difficult, but for professional movers not. They can take care of everything for you during the move. Think, for example, of packing your things or unpacking your things. You no longer have to arrange a moving van yourself and if you still need storage space, container, vans or, for example, a truck, this can also be arranged.
Moving yourself or outsourcing?
You should compile a very good overview for yourself with the advantages and disadvantages of moving yourself. This way you can see for yourself what suits you best as a person. Not that handy? Then hiring a moving company, for example, is a better option.
Moving and requesting quotes
What a moving costs on average is difficult to estimate because it depends on a number of factors. You can of course always request quotations for the correct price indication. It is wise to always do this with different moving companies. Research shows that the prices between moving companies sometimes differ by up to € 400.
Request free quotes from Moving
As you have read, moving is not easy because there is simply so much to consider. Fortunately, you can now make moving to a new home a lot easier with Moving for free moving quotes to request.
At Moving we totally understand when you say that you don't actually have time to contact different moving companies. This is of course more than logical because who has that nowadays? To make things a little easier for you, we at Moving have come up with a solution for this.
At Moving you now only have to fill in one application form and as soon as we receive your application we will send it to the 6 best moving companies in your region. These moving companies will then contact you within 24 hours to discuss the quotes.
---
Frequently Asked Questions
Where do you start moving?
Start by packing the things from the rooms you don't use often. This can be different for everyone, but often these are spaces such as the attic or garage.
Can you move in 1 day?
Moving in 1 day is very possible and therefore happens more often than you think. If you wish to move in 1 day, you can discuss the best options with the moving company.
Who can help me move?
Your environment often wants to help you move, but of course professional movers are also happy to help you.
What is the best time to move?
Spring is the best time to move! During this period the weather is pleasant and you can also air the new home for a long time.
How long does moving take on average?
This of course depends on the move, but in general a move in the Netherlands takes on average between 3.5 and 9.5 hours.