A move can be an exciting but also stressful event. Whether you are moving to a new home or moving for business, there is often more to moving than you might initially think. Fortunately, there is a solution to make the process easier and more efficient: outsourcing your move to a professional moving company. In this article we will discuss why you should choose to outsource your move, how you can hire a moving company and what benefits this entails.
Advantages of outsourcing a move
A move can be quite a logistical challenge. By outsourcing your move to an experienced moving company, you can benefit from various advantages. Below are some important reasons why outsourcing your move can be a wise choice:
Professional Expertise
Moving companies often have years of experience in moving household belongings efficiently and safely. They have the right knowledge and expertise to ensure your move runs smoothly. Whether it concerns dismantling and packing furniture, loading the moving van or safely transporting vulnerable objects, a professional moving company can arrange it all for you. It hiring a moving company has never been easier with Moving.
Time saving
A move takes a lot of time and planning. When you When you move, you have a lot to do. Especially if you also want to use a moving service, such as hiring a moving lift. By hiring a moving company, you can outsource this task and focus on other important matters. The movers take care of the packing and unpacking of your belongings, the transport and the placement of your furniture in your new home. This saves you valuable time that you can spend on arranging other matters related to your move.
Stress reduction
Moving can be a stressful event, but outsourcing your move can reduce a lot of this stress. The moving company takes over the heavy physical work and organization from you, so that you can concentrate on planning your new life in your new home. You can rest easy knowing that experienced movers will make your move a success. Outsourcing your move is a wise choice, especially during a business move.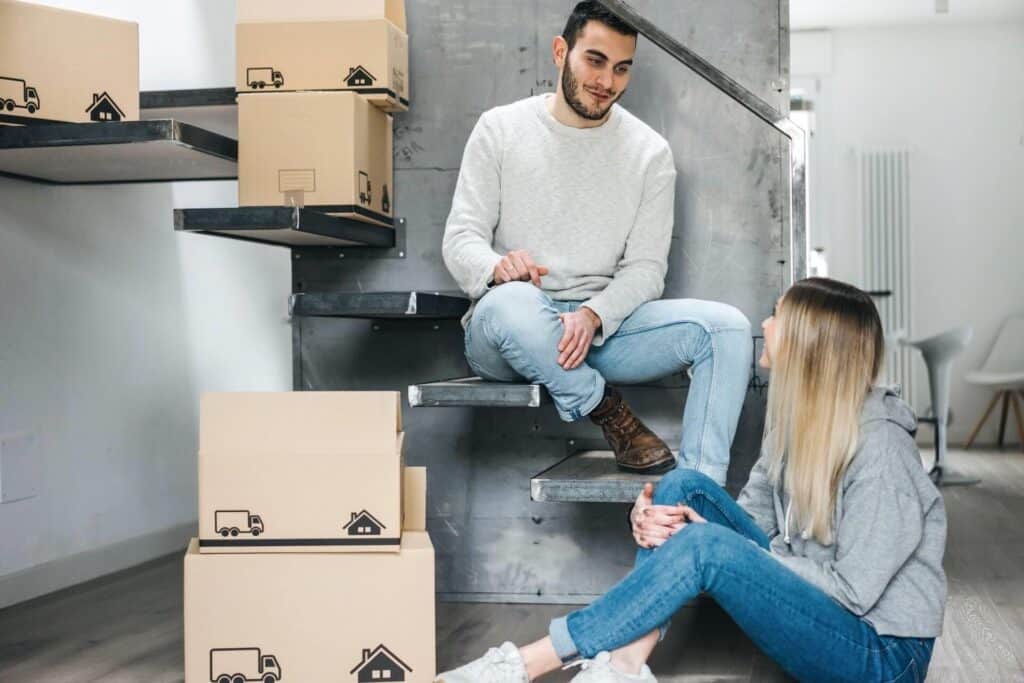 Security of your Stuff
A recognized moving company ensures that your belongings are handled properly and safely during the move. They have the right moving materials, such as moving boxes and protective packaging materials, to ensure that your furniture and personal belongings arrive at their new destination undamaged. This means you don't have to worry about damage or loss of your valuables. So move with peace of mind and have your entire move outsourced.
How does outsourcing a move work?
Now that you know the benefits of outsourcing a move, you may want to know how to hire a moving company and what the process entails. Below are the most important steps to outsource your move:
1. Find a reliable moving company
Start by looking for a professional moving company that meets your needs and wants. Look at the moving company's experience, permits and insurance to make sure you're working with a reliable partner. Fortunately, you can outsource your entire move with Moving without any worries, because we only work with the best and most professional moving companies in the Netherlands.
2. Request quotes
Contact several moving companies and ask moving quotes for your move. Make sure you are clear about your wishes, such as the size of the move, the distance and any additional services you need, such as packing services. Compare the quotes and choose it moving company that is the best suits your needs and budget.
At Moving we understand that you probably don't have time for this and that is why we are happy to help you outsource your move. At Moving you can now easily receive 6 different quotes and you only have to complete one free request form! This way you know quickly and exactly what you need moving costs. The 6 best moving companies in your region will contact you within 24 hours to discuss the costs of the move with you.
3. Preparation and planning
If you choose to carry out your move yourself, it is important to prepare yourself well. If you have finally opted for a moving company, the moving company will draw up a schedule for your move together with you. They will help you determine the correct date, the number of movers needed and the required moving van. Proper preparation is essential for a smooth move, so make sure you discuss all the details with the moving company. There is often more to a move than you think and when you hire a moving company you no longer have to worry about this.
4. Moving day
On the moving day itself, the movers will appear at your old home at the agreed time. They will carefully disassemble, pack and... load safely into the moving van. They will then transport your belongings to your new home and unload everything neatly. With the help of professional movers, your moving day will go quickly and efficiently.
5. Unpacking and Installation
Once in your new home, the movers can also help you unpack and install your furniture. This can be a huge time saver, as you don't have to unpack and assemble everything yourself. You can quickly have your things in place and start enjoying your new home.
Conclusion
Outsourcing your move to a professional moving company offers many benefits, such as time savings, stress reduction and professional expertise. By hiring the right moving partner, you can make your move easy and efficient. Take the time to try different ones Compare moving companies, request quotes and choose the company that best suits your needs. Leave the heavy lifting to the movers so you can enjoy a stress-free moving experience.
Frequently asked questions about outsourcing a move
After discussing outsourcing a move, here are some common questions people often have:
What does a move cost?
The costs of a move depend on various factors, such as the size of the move, the distance and any additional services you may need. By requesting free quotes via Moving, you know exactly where you stand.
What are the pros and cons of outsourcing a move?
The benefits of outsourcing a move include time savings, stress reduction, professional expertise and the safety of your belongings. A potential drawback may be the additional cost compared to a do-it-yourself move.
How many movers do I need?
The number of movers you need depends on the size of your move. A moving company can advise you on the right number of movers based on the amount of furniture and boxes that need to be moved.
Do I have to be present during the move?
It is advisable to be present during the move so that you have full control and can answer any questions. However, you may not be able to attend in person. In that case, you can have someone else act on your behalf.
What if the moving company doesn't show up?
A reliable moving company will always show up at the agreed time. In the unlikely event that the moving company does not appear, please contact them immediately to discuss the situation. A professional moving company will do everything they can to solve the problem and make the move happen as quickly as possible.