Moving a piano is not something you do every day and it is not an easy task. Moving a piano means that you have to take many things into account. A piano is not only a sensitive instrument, but it is often also a very large object.
Transport the piano properly
Moving a piano to a new location requires the necessary knowledge and experience. Transporting a piano means a professional approach. If a piano is not moved properly, it can cause permanent damage to the piano. Moving a piano is therefore best left to real professionals.
How to transport piano?
As you have read before, moving a piano must be carried out correctly. Fortunately, moving a piano is for professionals movers No problem. They know exactly how to transport your piano correctly. We are happy to explain to you how they carefully move a piano.
Moving a piano and lifting the piano
Moving a piano to a new destination naturally means that the movers have to move it. The movers use a special 'moving dog' for this. This tool is actually just like a normal moving dog, but it is specially made for pianos. When you see it, it's actually just a platform with wheels. You can actually call it a kind of elevator.
By using these types of aids, moving a piano is less difficult because it allows them to easily drive over thresholds and other obstacles.
Moving a piano means one moving truck needed because you obviously need transportation. For moving pianos, movers use the best means and so also for transport.
After the piano has been moved properly and is in the moving van, the professional will firmly secure it with straps so that it cannot be damaged during transport. Properly securing the piano does of course play a major role in moving the piano.
Professional moving materials
Of course you don't want a piano to be damaged during the move. This is not necessary because the movers not only have years of experience with moving pianos, but they also use the best moving materials.
A special technique and the best moving materials naturally means that they can transport the piano without any damage. The piano is packed with a special cover and one side with blankets while the other side is wrapped with foil. The professionals will determine what your piano needs on the moving day.
Unloading the piano
Moving a piano obviously means not only that the piano has to be placed in the moving van, but that it is also placed in the right place at the new destination. When the piano has arrived, the movers will look at it with you.
As you have read before, the piano is well packed during the move, but the movers do not want to damage your new home, which is why they will always use special road plates. These plates will be placed on the floor so that it is not damaged.
Never move via the stairs
It is certainly not a good idea to move a piano up the stairs and moving companies never do this. A piano is too heavy and too large, making it very dangerous to move the instrument via the stairs. This is not allowed at all according to the ARBO law.
Do you live on a higher floor? Then the moving company will use a moving lift.
Wait to tune the piano
As you have read before, a piano is a sensitive instrument and it may sound very strange, but your piano should also just relax after the move. Therefore, make sure you wait at least 1 to 2 months before tuning your piano. If you do not do this, the instrument can be damaged and the risk of permanent damage to the instrument is very high.
We know you probably enjoy playing the piano, but really try to wait before tuning the piano.
The costs of moving your piano
As you have read, moving a piano is really a profession in its own right. Because moving a piano is so difficult, the price also depends on several factors. We explain these factors to you.
The moving truck
Transporting your piano is actually one of the most expensive factors. Fortunately, you often pay a daily price for a moving van, but ultimately the price will also depend on the number of kilometers that have to be traveled.
The number of kilometers
Moving a piano Amsterdam Unpleasant Rotterdam or for example from The Hague to Leeuwarden naturally entails different costs. In general you are for it renting moving vans on average between €250 and €350 and you pay additional costs for additional kilometers driven. How high these are depends mainly on the moving company.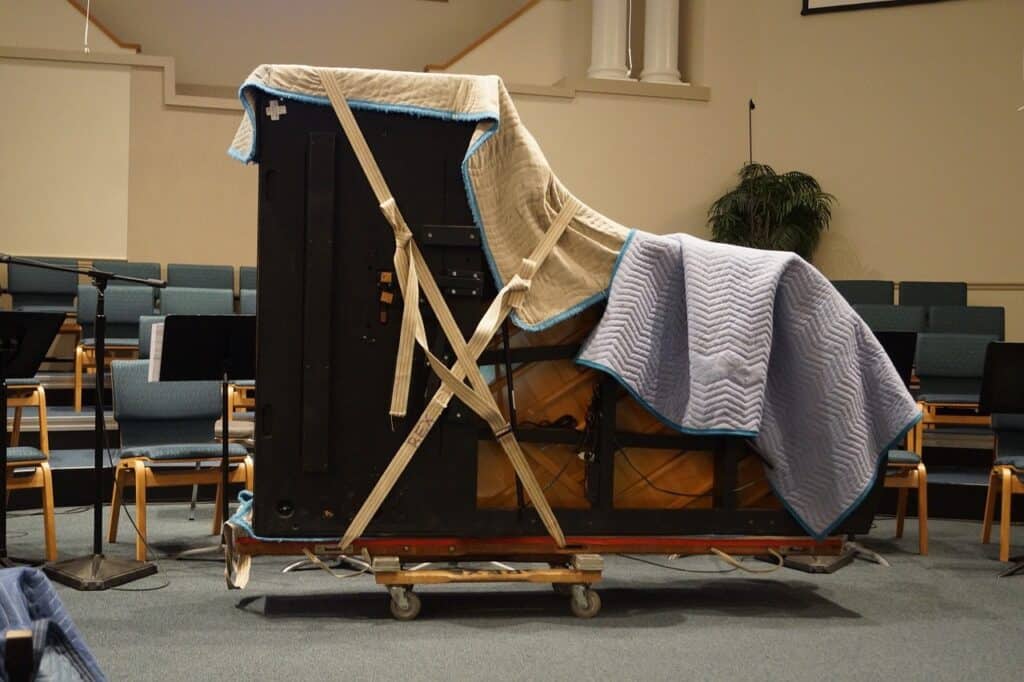 The number of movers and the wing moving
On average, 2 movers are needed to move a piano. Do you also have a wing? Then even more movers are needed because the grand piano is also massive. In general costs to hire an extra mover approximately €37 per hour.
Rent a moving lift
The best option for moving your piano is often to move one to rent a moving lift. Still unsure about this? Then the moving company can best advise you on this. Moving companies often charge around €75 per hour for moving lift rental.
Request quotes
Would you like an exact price calculation for the move of your precious piano? Then you can here moving quotes for requests. Do this with several moving companies so that you can compare their services and prices.
Moving quotes at Moving
Submit one application form to Moving now and receive it within 24 hours free moving quotes. We will send your request directly to the 6 best moving companies in your region, so they will contact you within 24 hours.
Once you have received all quotes, you can compare them with each other and choose the moving company that you think is most suitable for moving your piano.
Don't forget to check your insurance
It's always a good idea to check before you move insurances to check. For example, do you have household contents insurance or is your piano well insured with the moving company? If you check these things well in advance, you can move your piano and/or grand piano without any surprises.
Frequently Asked Questions
---
What does it cost to move a piano?
Moving pianos can easily cost between €250 and €370.
Can you move a piano yourself?
A piano is a sensitive instrument and so it is better to leave it to real professionals to move it.
How do you transport a piano?
A smaller moving van is often required to transport a piano.
How do you move a piano?
A special furniture roller or hand truck is usually used to move a piano.
How heavy does a piano weigh?
A piano can weigh 200 kilograms, but certainly also 500 kilograms!