Arranging a move can not only take an enormous amount of time, but a move can also be extremely chaotic. This is due to the fact that a move is about more than just packing moving boxes. Yes, packing your belongings is certainly an important aspect of a move, but did you know that it is also important how you pack all your belongings?
Packing yourself or by movers?
You can of course pack your things yourself, but it is important to do this in the right way and it is also important to use the right moving materials. If you do not do this, there is a risk of damage and you do not want this.
That is why many people choose to have their belongings professionally packed. They know exactly how to proceed and they always use the most professional moving materials.
Customized packing service with a professional packing service
Anyone can of course pack things and move them, but it is also important to take possible damage into account. For example, if you do not pack your fragile items properly, they can be damaged during the move and you do not want this.
What is a packing service?
Because many people still feel that they have no experience with packing all their belongings during a move, a packing service with experienced movers is increasingly being chosen. This way you can have all your stuff packed and you don't have to worry about anything else.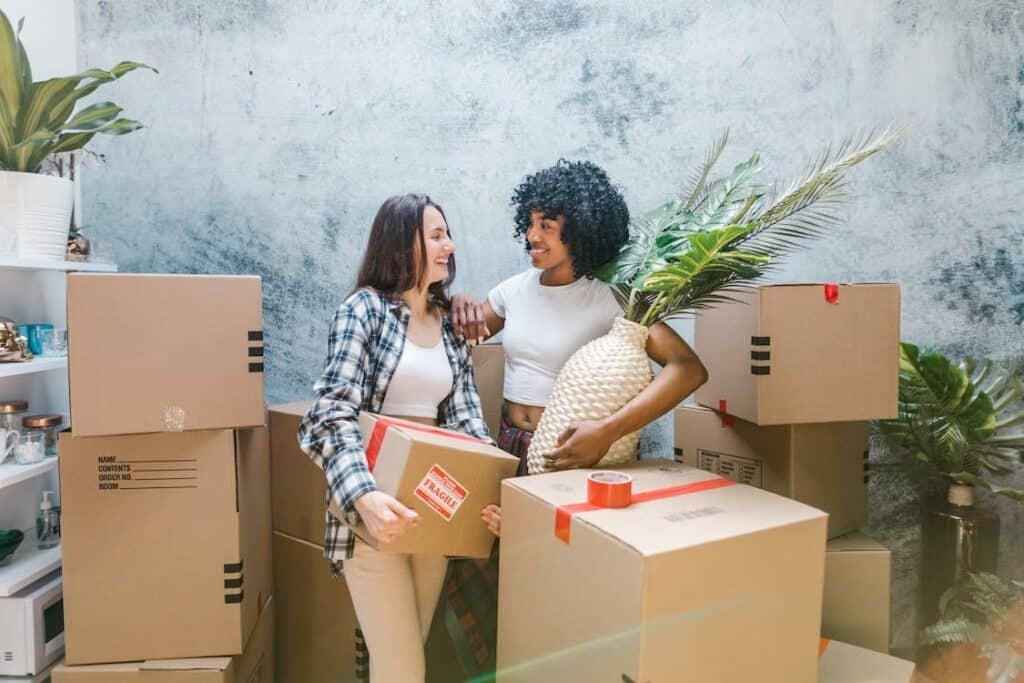 Have your fragile items packed
Verhuis met en gerust hart en laat ervaren inpakkers van een professioneel moving company je meubels inpakken. Deze ervaren verhuizers weten precies hoe zij alles veilig kunnen verhuizen. Zij zullen alle verhuisdozen en alle spullen zorgvuldig inpakken.
You will of course move into the new home, all things must of course also be unpacked and put in the right place. If you find it necessary that movers not only help you pack, but also unpack your belongings, you can also hire an unpacking service.
Good preparation is half the work
Do you want to have your personal belongings packed on the moving day? Then it is important that you are well prepared. For example, the professional mover needs a good moving box for all your fragile crockery. If you use boxes that are not of good quality, accidents can happen and you naturally want to prevent this during removals.
Your items are guaranteed to be delivered damage-free
With a packing service, the professional movers will move the items to your new home without damage. Other fragile items such as antiques or white goods will also be professionally packed so that they can be safely transported in the moving van.
Packing method
Clear and clear communication is of course very important during removals, which is why the movers will always discuss everything with you before they actually start their packing service.
Which moving boxes did you buy?
How many moving boxes did you buy?
What do you want to move?
Do you have enough labels for the boxes?
Are there items that need to be put into storage?
Professional moving materials
Professional moving companies always use transport-worthy packing material. You can think of moving blankets, wrapping paper or, for example, bubble wrap. The moving companies also always have other necessary materials that the professionals can use.
What does a packing service cost?
Every move is of course different and so is everyone's household effects. That is why it is very difficult for moving companies to simply calculate the costs of moving. This requires further information and of course this is also the case with a packing service.
With Moving you only need to submit one application. As soon as we receive it, we will send it to the 6 best moving companies in your area and they will contact you within 24 hours.
Frequently Asked Questions
What does a move cost with packing?
According to the Erkende Verhuizers website, a moving company charges between $950 and $1,200 to pack the items for an average-sized home.
How long to pack in advance when moving?
It is best to start as early as possible. It is of course important to start with the rooms that you do not use first. Think of the attic and garage, for example.
Which items to move first?
Always make a list of the things you want to move and always start with the rooms you use least often. This could be the attic or garage, for example.
What does a mover cost per hour?
A moving company usually charges between €33 and €38 per hour per mover. If you also purchase other services, these prices will of course differ.
How many boxes do you need for a move?
Approximately 15 moving boxes per room are kept per family. The exact number may of course vary depending on your situation.
How to pack fragile items?
Always use wrapping paper or bubble wrap. Don't have this? Then you can also use old tea towels, towels or even socks.

Where can I find the cheapest moving boxes?
Moving boxes of solid quality that are not too expensive are best purchased on the internet.
How to label moving boxes?
It is best to use stickers to label the moving boxes. Never write on the box itself so that you can use it for other things later.