Moving (internationally) can be difficult. You have to arrange everything, you have to prepare yourself mentally and you also have to take other family members into account. Oh, do you want to move your pets too? Then moving with pets is of course even more difficult.
Prepare for the move
(International) moving with pets can be extra exciting. A move in itself already brings a lot of stress, so let alone when you also have to take into account that your pet also has to get used to it. Yes, moving with pets is exciting, but it doesn't have to be hard to see at all.
Moving pets
How you move pets naturally depends on the type of pet. That is why we are happy to explain how you can safely move the most popular pets in the Netherlands.
Moving with cat
Cats are animals that like control. Your (new) vet will also tell you this. It is therefore very important to guide the animal well during the entire process.
Moving a cat is difficult
When you move with cats, it is very important to take these sensitive animals into account. A move and a new home can be very difficult for cats. A jug finds it very difficult to leave its territory and therefore familiar surroundings. Furthermore, cats must stay indoors in the new home for 2 to 6 weeks so that they can explore the new environment and get used to the new smells. A cat can also be very nervous and shy during a move or the first days in the new house, so pay close attention to this.
Moving with a dog
A dog can feel a lot. So is the chaos of the move. Make sure your dog experiences as little stress on moving day itself as this negative energy can be extremely frustrating for a dog. We therefore often advise our customers to temporarily house their dogs with friends or relatives so that the animal receives as little as possible from the move.
Moving with fish
You really need to transport fish in the right way because if you don't do this, the fish can die. We wrote a whole article about this, so read this article!
Tips for moving with pets
For example, if you have fish or birds in your old house, you can move them more easily than if you have larger animals. Moving a cat or moving a dog is really a different story.
Golden tip: Read a (free) e-book for more information
Would you like more information about moving these sweet critters? Then maybe you can also read an e-book about it. Online you can easily find a free e-book about moving pets (internationally).
You are moving
Are you ready to move to the new address? Then it is important to give a lot of attention to the animals. As you have read before, moving is not only stressful for people, but also for animals.
Keep the same as much as possible
As a dog or cat owner, you probably know exactly which toys are their favorite toys. Sort their toys and leave the most important items as long as possible.
Do you have a separate room that you can use? Then it is wise to place the items in this room. You can also place the basket, litter box or water and food bowls in the room. This way everything remains familiar during the move.
The move itself
The best thing to do is to make sure your pet can get used to it in peace. Both the move and the new house. Relocations are drastic moments in a person's life, but also in that of the animals. Don't forget to walk the dog and make sure that the animal has water and possibly food.
Getting used to new home and environment
As you have read before, animals can complement feelings very well. Especially dogs and cats. Try to remember this during the most stressful moments. Furthermore, make sure that your pet really has its own things until the very last moment so that it can get used to new smells in the new home with familiar things and scents.
Your pet in the new home
Are you moving abroad? Then it is important that you visit the vet in advance. You may need certain vaccinations for your destination, otherwise your pet will not be allowed on the transport and of course you do not want this. A visit to the vet is easily arranged, so arrange this well. Don't forget to change the registration of your pet's chip. Moving a pet also means a new address, which is why it is wise to pass on your new address details as soon as possible.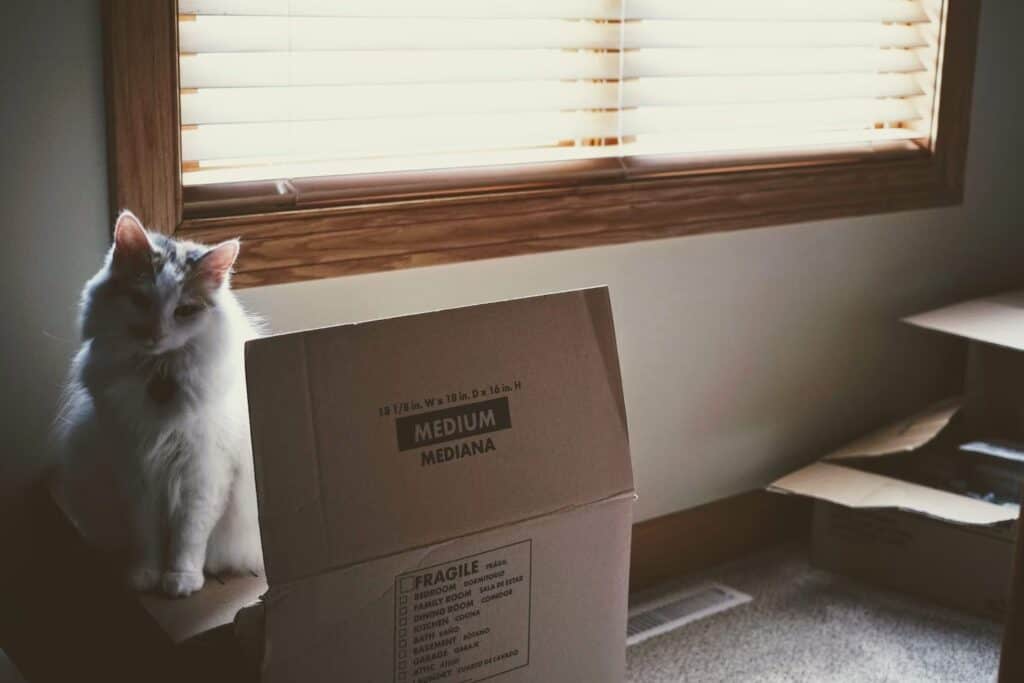 Hire an animal-friendly moving company
Wil je jouw verhuizing uitbesteden aan een professioneel moving company? Dan kan dit heel handig zijn, want verhuizers die ervaring hebben met het verhuizen van huisdiertjes weten precies wat zij wel en niet kunnen doen tijdens een verhuizing. Zo kunnen jullie makkelijk gaan verhuizen!
Free moving quotes with Moving
You only need to fill in one application form at Moving and as soon as we receive it, we will send it to the 6 best moving companies in your region. They will contact you within 24 hours so that you can make the right choice at your leisure.
Frequently Asked Questions
What is the most popular pet in the Netherlands?
In the Netherlands, 3.8 million households have 27.3. million pets. Cats and dogs are the most popular, followed by fish.
Does a dog suffer from moving?
A move can have an impact on a dog and that is why it is important to prepare your dog well in advance for the move.
How long does the dog take to get used to a new home?
A dog needs about 2 to 5 months to get used to the new environment. It is therefore very important to give your dog not only space, but also time to get used to it.
How do you notice that a dog feels at home?
Happy dogs often want to play and are also often nice and relaxed or wag their tails a lot!
Which pets can you no longer keep in 2024?
In 2024, exotic mammals may no longer be kept in the Netherlands. Breeding and trading is also prohibited. You can think of animals such as the serval, Russian dwarf hamster, meerkat and hedgehog.