Je gaat verhuizen! Eindelijk! Je kunt nu dus beginnen met het plannen van je verhuizing. Een planning of 'moving checklist' is erg belangrijk tijdens een verhuizing want zoals ze van oudsher al zeggen.. een goede preparing for relocation it's half done.
Your personal moving list
Are you moving soon and do you want to start making the ultimate checklist for your move? Then Moving is happy to help you with this. We have tried to help you as much as possible in this article so that you can compile your own moving list.
You are moving, so think carefully
Whether you are moving within the current municipality, new municipality or perhaps even abroad.. it is very important to always sit down first so that you can think for a while. This way you can relax and think carefully about what you need to arrange and when you should arrange this.
Don't just think about the practicalities
When you are compiling your personal moving list, it is important not only to think about the practicalities. Think, for example, of renovating the bathroom, selling electronic equipment or how you can move your household effects from the old home to the new home.
The little things
Also check carefully when you receive the new keys and in the case of pets, it is important to first check whether they are allowed in the new home.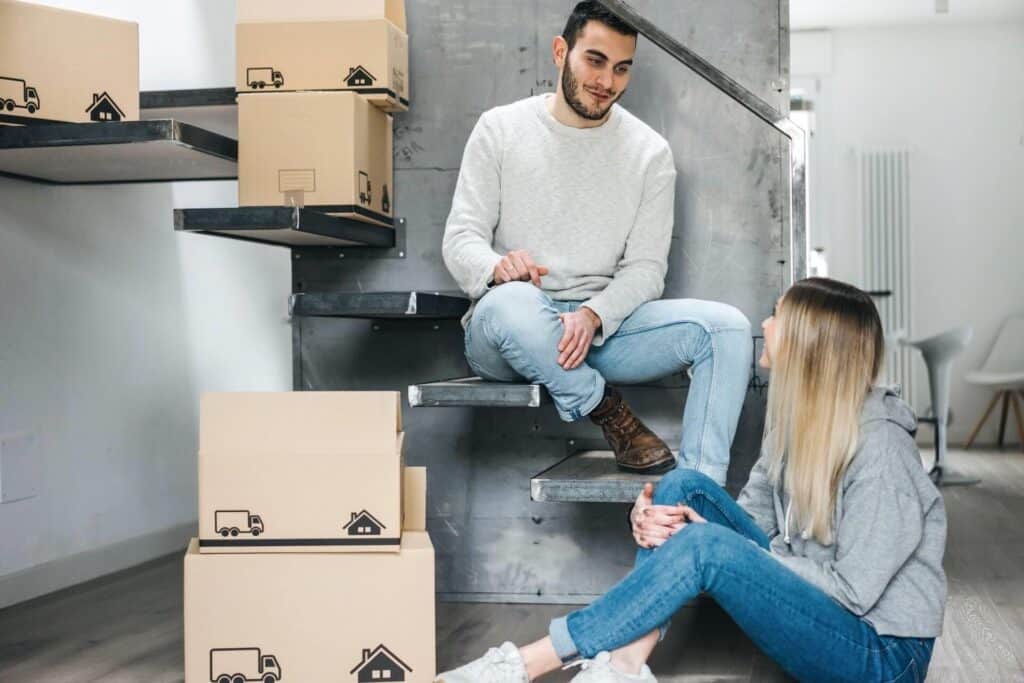 Also think about administrative matters
When you move, there are many administrative matters that you have to arrange and you can sometimes forget these due to the chaotic move. Here you can think of it gas water and light in both the old and new house. Furthermore, there are probably also subscriptions and other contracts that you have to cancel for your old house and you will probably have to apply for new ones in the new house.
Report the move on time
By the way, don't forget to report your move to the municipality. If you don't do this on time, you risk a fine and a move in itself is actually expensive enough, so of course you don't want this.
When do you have to report the move?
You must report the move within 4 weeks before the move. You can also report the move no later than 5 days after the moving day.
Report a move or change of address
If you move within your current municipality, you only need a report change of address, but are you moving to a new municipality? Then you have to register yourself as a new resident and in this way you pass on your move. This is an official declaration of your move. In this case, the new municipality will also automatically deregister you from the old municipality.
You can report your move in various ways
Online
You can now arrange your municipal affairs online with your DigiD at most municipalities in the Netherlands. It is of course always wise to consult the website of the relevant municipality in advance.
Along the town hall
Do you prefer to arrange your affairs personally? Then you can still pass the town hall. In this case, you just have to remember to make an appointment for this in advance. Do not forget to bring a valid ID with you.
By mail
Do you want to report the move in writing? Then this is also possible. However, in this case you have to take into account the fact that the process for deregistration will take a little longer.
Don't forget your taxes!
Also take a good look at your municipal taxes and automatic transfers. You often have to stop these yourself. You should also arrange your monthly tax refund properly so that you will not run into problems later on.
In addition, authorities such as the Central Bureau for Motor Vehicle Tax, the Education Executive Agency, your health insurer, the police and the fire brigade will automatically be notified of your move.
Moving a checklist turns out to be important
As you have been able to read, such a moving list can make your move a lot more pleasant and easier. You can check everything on the checklist step by step and cross everything off the checklist one by one. This way you can be sure that you won't forget anything.
Other practical matters
Terminate the rental contract of your old house in good time. Don't forget your gas, water and light. Are your children going to a new school? Then make sure that they will have enough time to get used to this idea. It is also important to:
Notify your environment.
Looking at the homeowner regulations.
Looking at the place electrical outlet regulations in the new home. Do you have to deal with a special connection?
Items left behind will be quickly thrown away by new residents, so make sure you don't forget anything.
Pack fragile items well.
Do you need storage space?
Do you need a parking permit at the new address? You can apply for a parking permit at the municipality.
Valuables
Have you thought about things you don't want to move with you? Have you perhaps already thought about 'acquisition of stuff'? Then it is useful to inform your family, friends, acquaintances, neighbors and employer. It often happens that they would like to take it over.
Dispose of your belongings
Do you have all new furniture for your new house and do you want to have everything removed from the old house? Then you can of course always place these items with the bulky waste. For this you always need to make an appointment with the municipality so that the municipal cleaning service can come by.
Charities
Of course you can always donate your household effects to a good cause. Consider, for example, your local thrift store or the Salvation Army. Thrift stores are always open to taking over items and in most cases they will also collect them themselves and free of charge.
The moving day itself
Verhuis je met een professioneel moving company? Dan zullen de (erkende)verhuizers op de verhuisdag zelf netjes op tijd aanwezig zijn. De meeste verhuisbedrijven bellen je zelfs altijd 15 minuten van tevoren. Zorg er dus voor dat je op tijd klaarstaat zodat je de verhuizers kunt laten zien wat er allemaal moet gebeuren.
Do you have a lot of heavy stuff that needs to be moved? Please pass this on to the movers so that they can bring enough moving boxes and use special moving boxes for heavier items.
Check the old house
When your old house is finally empty, it's a small undertaking to walk through the house. When was the last time you swept the house? Or when was the chimney last swept? You have to arrange these things well, since the house often has to be delivered broom clean.
It is also very important to check all windows and doors one last time so that you are sure that your home is properly locked when you leave it. You must hand in the old keys to the landlord or estate agent upon delivery.
The day after the move – from old residents to new residents
Have you had the perfect move? Then you can finally relax in your new home. All those jobs such as choosing curtains for the new house have not been for nothing and now you can finally hang your curtains.
Moving is stressful, but once you've settled in, you can finally start a new chapter in your new home.