Are you planning a house clearance? Then this can be a difficult task because in the Netherlands in general we do not know very much about house evictions. Usually about moving. Everyone can relate to that and this is of course due to the fact that relocations simply occur more often.
Have household contents cleared?
You empty the house As you have read before, it is quite a difficult task. This is not only because of the heavy work and intensive work that has to be carried out, but there is a lot more to clearing a house.
In this case, it is not just about emptying the house and removing all furniture, but in the event of an eviction, the house must also always be delivered in accordance with the landlord's requirements, which naturally requires extra work.
Less pleasant conditions
Clearing out a house before you finally will move or before you start a renovation can of course be planned well in advance. However, one must house clearance Unfortunately, this often happens after less pleasant circumstances, which means that it is more often the case that a house clearance has to be planned urgently than that it can be planned in advance.
You don't have to worry about urgent bookings at all. Professional companies often work with a flexible focus, which allows them to make adjustments to their planning at the last minute.
In this way, things can be moved around so that companies and their staff can still help you at the very last minute. This is often for a small surcharge, but how nice is it that customers throughout the Netherlands can still be helped at the last minute?
A professional clearing company is happy to help you
Do you have to vacate a house due to circumstances? Then it might be a wise choice to hire a professional company for this. This way the job is taken off your hands and you don't have to worry about anything anymore. Not even for delivery.
Professional evacuators know what they are doing
Evacuators have the necessary experience and knowledge so that they know exactly how to evacuate a home. What is also nice is that these skilled gentlemen will always work in a discreet way. In this way, you as a customer can be sure that your belongings are in safe hands.
How house clearance works
Your house will be evacuated by the evacuators in no time. You can also be sure that your belongings will be safely removed or moved. This can be to your new home, nursing home, building, garage or furniture storage.
The work
Evacuations always require approved professional tools. This is due to the fact that there are quite a few difficult activities to be carried out.
In addition to emptying the house, evacuators will also have to carry out other jobs because in 9 out of 10 cases the house must also be delivered broom clean and bare. This means bald and in original condition.
That is why they must immediately start the repair work when the house is empty. This includes removing carpeting, curtains and/or lamps. Furthermore, the walls must often be whitewashed and all holes in the walls must also be filled.
After removing the floors they must also remove wallpaper if necessary. Furthermore, they will always remove holes and stains from ceilings.
When the repair work is over, the evacuators will start with the cleaning work. You can probably imagine that the kitchen, toilet and bathroom need a thorough cleaning after an eviction.
When the evacuators have completed the repair work and cleaning, they can deliver the house. Evacuation in accordance with the requirements of a landlord or broker is almost always included in the service of a professional company.
Clearing the house in exchange for furniture
Because evictions can be quite expensive, you can choose to have the house emptied at many companies in exchange for furniture. Many companies would like to buy your stuff and in this case will deduct the price they pay you for your stuff from your invoice.
Buying household effects means a second chance
Having your household effects bought up in exchange for a discount on a house clearance is not only good for your wallet, but clearing a house in exchange for household effects is also very good for the environment. This often concerns items that are still of very good quality and can therefore be reused for years to come.
Evacuate in exchange for furniture
Do you still have used furniture that is in good condition? Then it is wise to indicate this to the company.
This way, before they start clearing, they can value all items and then empty the house at a substantial discount. As you have read before, the price they pay for your stuff is deducted from your quote.
Selling furniture tips
After a house clearance in exchange for household effects, your belongings will get a second life. Usable goods will be sold through markets or thrift stores. Companies often resell used furniture.
The export options make resale easy, so why not? The company therefore ensures that your belongings ultimately get to a good destination.
Charities
A company can also choose to donate the items to private initiatives or various causes. You can think of a local thrift store, but also the Salvation Army, for example.
Used furniture and clothing are often things that can make people who are less well off very happy. This way, the items not only get a second life, but you also make other people very happy with them!
The evacuators and your valuables
Do you have a lot of valuables that you are rather attached to? Then you don't have to worry about this at all during the evacuation.
Professional companies always employ well-trained staff that you as a customer can trust very well. They will always lead the evacuation in the right direction and they will always work as discreetly as possible.
Do evacuators come across other important items or confidential documents during the house evacuation that have not been agreed upon? Then they will immediately report this to the manager so that he can contact you directly.
Sale of usable items
Do you need a home evacuation, but do you think the costs for a home evacuation are rather high? Then, when you no longer need your belongings, you can always opt for a house clearance in exchange for your belongings. This way you have a cheaper house clearance and your house will be delivered broom clean.
You don't have to think about anything else. For example, do you have a move coming up? Then you can focus all your attention on the move.
House clearing costs
Do you also want an empty house and do you want to know what the average costs are for emptying the house? Then it is very difficult to find the average price for this. This is because the price is calculated based on various factors.
Without any background information, it is therefore difficult to estimate the exact costs of emptying your home.
Various factors
The price for clearing a house has to do with various factors. You can think of whether it concerns a seriously polluted home, what your personal wishes are and whether it concerns a rental home or owner-occupied home. Do you need an urgent booking or would you like a fast service?
As you can see there are many factors that influence the price of an eviction. One thing that is certain is that an eviction is often not very cheap. Do you want to know the exact price? Then it is best to request a free quote for this.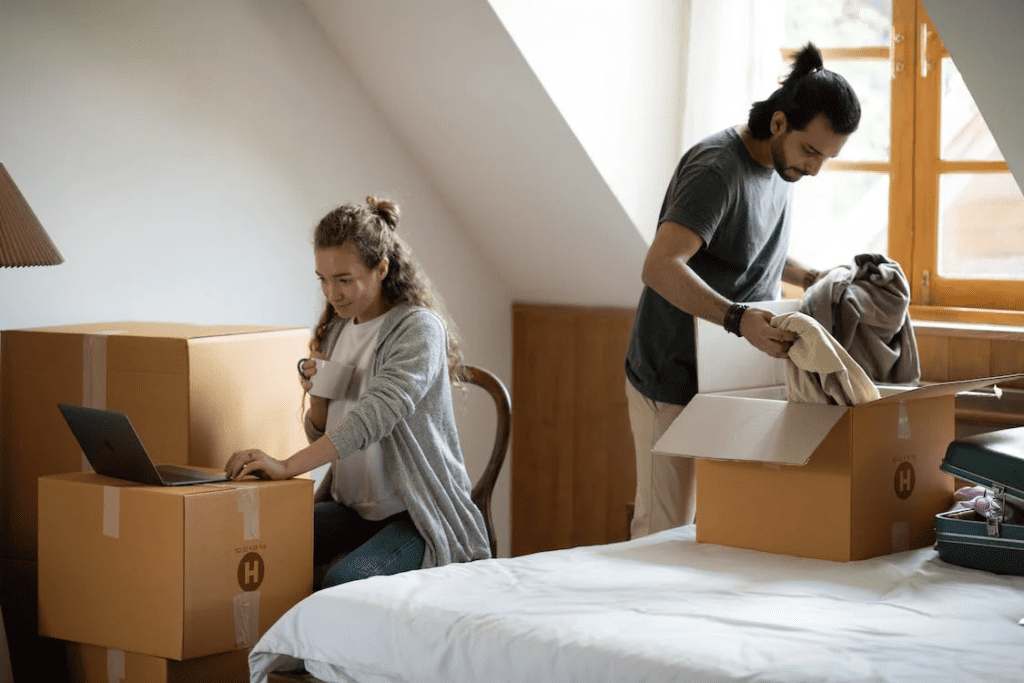 Request quotes
Do you want to know what your house clearance will cost you approximately? Then you can of course always request a free quote for a home evacuation. At Moving we have tried to make this a lot easier for you.
Free quotes at Moving
At Moving you can now request free quotes. After we have received your request, we will send it to the 6 best moving companies in your region so that they can contact you within 24 hours.
Clear out the way you want
When you have received all quotes, you can compare them with each other. Take a good look at what services each company offers its customers and at what price they do this. Always ask whether they buy furniture and whether you can therefore get a discount on your furniture.
Do you have any other questions?
At moving we like an honest approach. Do you still have questions? Then we can be reached by phone on all days and our employees are also happy to speak to you!
Frequently Asked Questions
What happens to your belongings after eviction?
If you can arrange an eviction in exchange for household effects, the eviction company will sell your household effects to thrift shops, for example.
What does it cost to have a house cleared?
If you take an apartment as an example, the costs for emptying the house will be between € 470 and € 2200. The average price for this is about €1150.
Who empties houses?
This is what professional evacuation companies do. Moving companies usually also specialize in this.
How long does an eviction procedure take?
The procedure at the court usually takes one month, but the actual deportation can sometimes take up to 6 months. The landlord may not vacate the property during this procedure.
How long is an eviction notice valid?
The statute of limitations for a judgment is 20 years in the Netherlands. This means that an eviction judgment is also valid for 20 years.
Who pays for the eviction?
The losing party will have to pay the costs of the court proceedings and the costs of eviction.