Anyone who has moved once knows how difficult moving clothes can be. At first glance you wouldn't think so, because what is so difficult about moving a few items of clothing and belongings?
Moving clothes can be tricky
Well, nothing could be further from the truth. Moving can be extremely difficult, even with few clothes. Especially when the day of the move is approaching, this will cause even more stress, which can make everything even more chaotic.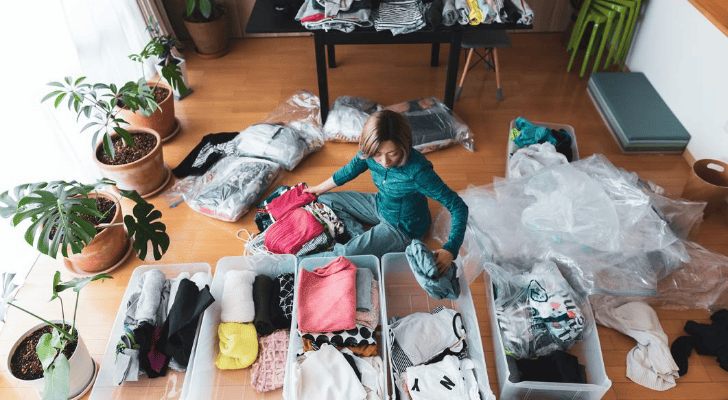 Moving clothes tips
What many people also don't know is that moving clothes can be difficult for many people because how do you move it in the best way? Are you moving soon? Then of course you want as little stress as possible and you probably also want you to have a smooth move.
With our free moving tips in this article, you will succeed very easily. We tell you exactly how to properly move all your clothes hanging in the closet.
Smart packing tips for your clothes
As you have just been able to read, we would like to give you some packing tips for quickly and properly packing your clothes
Tip 1. Have you packed your things?
Don't start packing yet! You better start after reading our smart tips! Firstly, before you move, it is very important to throw all your clothes in the wash. Think of it as an extra big cleaning before you move.
Tip 2. Grab your chance
One of our other smart packing tips is to use this moving moment to go through your clothes. Do you still use all the clothes or do you have a lot that can actually go? Therefore, sort your clothes according to what you wear every day, sometimes wear and no longer wear at all. This way you can already throw away a lot of clothing or even give it away to a good cause.
This way you not only save on packing, but you also help your fellow man. Nice to have, right? A good cause can be the Salvation Army, for example, but also the local thrift store. If you have more stuff, they will even pick it up for free!
Tip 3. Packing clothes at its best
Okay, you've probably sorted, washed and neatly folded all your clothes by now. Then we can move on with the rest. There are a lot of tricks with which you can pack a lot more smoothly.
Tip 4. Are garbage bags handy when moving?
When you think of a move, you quickly think of moving boxesand this of course makes more than sense. Yes, you can also use moving boxes to move your clothes, but you've probably noticed that moving boxes are quite expensive. Packing smarter not only means packing easier, but it is of course always wise to keep an eye on your budget.
Tip 5. Sturdy garbage bags are a must
It may sound strange, but do you already have a large garbage bag at hand? You can easily move your clothes with garbage bags. These types of bags offer extra strength and will not tear easily.
For your underwear and socks it is a lot smarter to use small bags, because this takes up less space and so you can load everything into the moving van without any worries. You can tie the bags that belong together, which makes unpacking a lot easier.
Tip 6. Cardboard boxes
As you have read before, moving boxes can be quite expensive. Why actually? It's really just a piece of cardboard, isn't it? First of all, we have to explain that cardboard is very expensive at the moment due to the shortages of raw material.
Furthermore, a moving box is of course not just a box, but it must be of good and strong quality because things have to be transported in it. Are you going for cheap? Unfortunately, this is often expensive in the moving world. For an average wardrobe you have about 3 to 4 boxes. Are you moving the clothes hangers with you? Then you need about 2 to 3 extra boxes. Calculate here how many moving boxes are needed are for your move.
Tip 7. Pack neatly
Before you start packing, it is important that you first sort all clothes neatly. Why sort you might think now? This is so that you keep clothes of the same kind together. For example, you can keep t-shirts together and pack sweaters together, etc.
After you have done all this you can start folding the clothes. When moving clothes it is very important to fold everything neatly so that you can pack it neatly because otherwise clothes can get tangled and when this happens we are almost certain that you will not be able to unpack it quietly.
Tip 8. Moving hanging clothes
Unfortunately, you cannot fold some clothes. Think of tuxedos or, for example, prom dresses that you just picked up at the dry cleaners. Now how the hell do you move this? Well, that's not very difficult, because you can simply use special boxes to move clothes while hanging.
This special box is also called the wardrobe box and is actually one large moving box with a metal hanging bracket. These boxes are available in different sizes and it is therefore important to take a good look at what you exactly need.
Furthermore, hanging pendants is not a good idea. These will cause tears in the bag and you don't want this. Therefore, always remove the hangers from your hanging clothes. If you absolutely want to move the hangers with you, it is best to transport them in moving boxes.
Wrap cabinets with foil
Always wrap cabinets well so that they are damaged during transport and moving so that the extra protection ensures that these items will be damaged.
Load the moving van smartly
Of course you don't just want to move your clothes, but you probably also have cupboards, kitchen items or books that you want to move. Books can be perfectly moved, but then you should not stack them on your wardrobe box with beautiful items of clothing, because they will definitely fall into pockets.
---
Frequently Asked Questions
How to move coat racks?
You can hang certain clothes on the coat rack and move it over it with a garbage bag. This way you can also place the coat rack upright in the moving van. However, do not forget to secure the coat rack with tension straps.
How to move shoes?
It is best to move shoes in the original box, but you probably no longer have it. Then you can use wine boxes or moving boxes in this case. Always fill the shoes with socks or newspapers so that they cannot dent during transport.
How long to pack in advance when moving?
Clothes that you don't use often can be packed whenever you want, but clothes that you will wear until the last minute are better packed last.
How do you start packing and moving?
Always start by packing the things you don't use often. This also applies to your wardrobe.
How many days do you need to move?
A move is usually carried out within a day. Are you entitled to special days off through your work? Then it is good to know that there are a maximum of 2 per year.